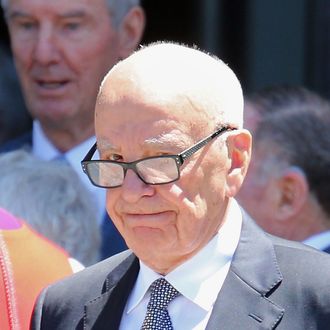 Photo: Scott Barbour/Getty Images
News Corp.'s interest in acquiring still more of the paper products people used to read for news is no secret, but the FCC is slowing things down, Bloomberg reports. Attempts to ease restrictions on owning both newspapers and television stations in top U.S. markets are stalled owing to political gridlock, leaving struggling papers to whither as their potential savior twiddles his thumbs. "They'd be changing rules for Rupert Murdoch to potentially make a run at the Chicago Tribune and the Los Angeles Times," one expert explained, but a promise by FCC chairman Julius Genachowski to get the tweaks done by the end of 2012 is overdue, with no breakthrough in sight.
"The two Republicans think that what Julius wants to do doesn't go far enough, and Julius is sort of in the middle — and he can't get three votes either way," a lawyer explained to Bloomberg. (Genachowski's fellow Democrats think the proposals go too far toward the Murdoch advantage.)
While News Corp. did not comment for this particular story, the company "supports eliminating the cross-ownership rule," it said previously. Then again, Murdoch already has a waiver that allows him to own the New York Post, Bloomberg notes, so don't count him out just yet. In the meantime, guess it's time to recount that pile of money.