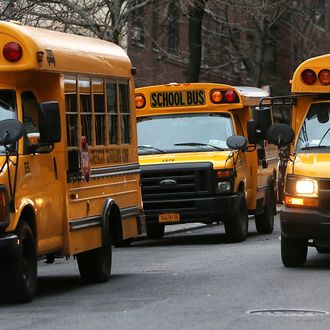 Photo: Mario Tama/Getty Images
Union leaders plan on calling for an end to the New York City school-bus strike that's been inconveniencing parents and annoying Mayor Bloomberg since January 16, according to reports Friday afternoon. The decision comes not because the city is ready to give them the job protection for veteran workers they're seeking in the face of new contract bids, but because leading Democratic candidates for mayor have agreed to revisit the demands after Bloomberg is gone, says the Daily News. Drivers could be back to work by Wednesday.
"Late last night, I received a letter signed by all of the serious candidates for Mayor of New York City — City Council Speaker Christine Quinn, Public Advocate Bill DiBlasio, Comptroller John Liu, former New York City Comptroller Bill Thompson, and former City Councilman Sal Albanese — all pledging support for the principles for which our members are currently fighting," said Amalgamated Transit Union International president Larry Hanley in a statement. "It is significant to us that the next mayor of New York has already recognized the principles of fairness that are required to govern a city, and that those we employ to serve our children deserve a fair day's pay for a fair day's work."
On the other hand, "There's dissention on the picket lines. They can't live on what they're getting paid," a source told the Post. "People want to go back [to work]." And Bloomberg's not budging, calling the strike "a lost cause" last night. "We do not believe that fighting for experienced and safe drivers and matrons for our city's schoolchildren is a 'lost cause,'" a local ATU leader shot back, but language aside, it appears the two sides agree they're getting nowhere.