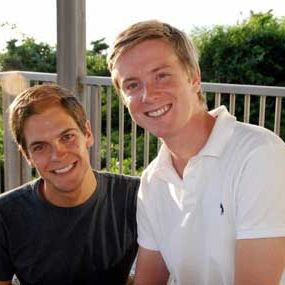 Having plenty of campaign money and lots of free media attention are enviable assets for any first-time candidate. But Sean Eldridge, the husband of Facebook co-founder and New Republic owner Chris Hughes, is in for a tough race if he challenges incumbent Republican Chris Gibson next year. Yesterday Eldridge, 26, filed papers establishing a campaign organization that would enable him to compete for New York's 19th congressional district seat in 2014. Eldridge runs an investment firm that has backed Hudson Valley artisanal food companies, and he's had one foot in politics for years — he was a leader of Freedom to Marry, the marriage equality advocacy group, and in 2012 launched Protect Our Democracy, a PAC that unironically deplored the influence of big money in elections. POD's greatest achievement so far, though, has been spending $250,000 to help a Democratic State Senate candidate win her race by a mere eighteen votes.
Eldridge would be smart to stockpile more of that kind of credit in the local political favor bank. He was born in Canada and grew up in Ohio, and he and Hughes split time among a number of palatial residences — the kind of things that will help Gibson try to paint the novice candidate as a dilettante and carpetbagger. Gibson, 48, is a lifelong New Yorker and a talented campaigner with an appealing personal story, especially for a district that includes newly gentrified river towns like Hudson* but also covers a wide swath of depressed rural territory: He's a former Army colonel who served four tours in Iraq and was awarded a Purple Heart. Gibson is to the right of center but he's no tea-party wacko, having voted against Obamacare and increased military spending. During his first term in Congress, he mostly focused on delivering federal money to his constituents, particularly in farming communities.
The district itself is also an interesting puzzle. It has changed shape over the years, but Republicans have dominated much of its turf for decades. Kirsten Gillibrand, a brief recent exception, represented about half of what's now the 19th; after she was promoted to the Senate, her successor, Scott Murphy, lost the seat in 2010 to Gibson. The 2012 redistricting narrowed the Republican voter registration advantage, and one strategist says the district is growing more Democratic all the time. But November's results showed that Gibson is formidable: He beat a Democratic challenger by six points even though Barack Obama carried the district by a substantial margin. Turnout is likely to be lower in 2014 — without a presidential campaign or a contested New York gubernatorial election — which could also hurt Eldridge's chances.
On the plus side, he'll have the backing of the Democratic Establishment — Chuck Schumer and Nancy Pelosi were Eldridge-Hughes wedding guests — and the glow of celebrity. Plus Hughes's money. Yet what will make the race most interesting is also what could most boost Eldridge's prospects. Gibson is a product of the old upstate, which has been battered by the departure of blue-collar industry and population; Eldridge is an Ivy League–educated gay man backed by a new media fortune. In November, New York's 18th congressional district elected Democrat Sean Patrick Maloney, who defeated an incumbent Republican to become the state's first gay congressman. The 18th is suburban, encompassing Orange and Putnam counties and parts of Westchester. If Eldridge can win the 19th district, just to the north, it will demonstrate how the state's economy and culture continue to change.
*Correction: This post has been updated to reflect that Beacon was redistricted out of the 19th.