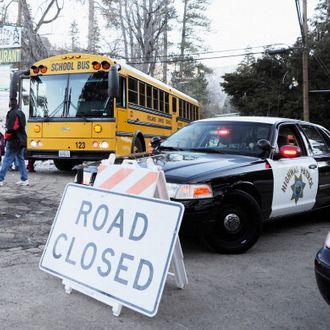 The body found in the burned cabin where Christopher Dorner had his last stand hasn't been positively identified yet, but police are sure enough it was his that they're calling off the search for him, San Bernardino Sheriff John McMahon said on Wednesday. "We believe that this investigation is over, at this point, and we'll just need to move on from here," he said. And while police reportedly found Dorner's driver's license with the charred body, they still "cannot absolutely, positively confirm it was him" until forensic investigators prove it, McMahon said. Assuming it was, though, a couple of questions immediately present themselves: How did that fire start, and what happens to the reward for bringing him in?
There had been some speculation that police had set the fire intentionally after they were heard in unconfirmed audio talking about "burners" and saying, "burn this motherfucker." McMahon appeared to confirm that tear gas lobbed by police had started the blaze in the cabin, but he said in his news conference, "I can tell you it was not on purpose. We did not intentionally burn down that cabin."
The Los Angeles Times reported on Wednesday morning that police had used incendiary tear gas, which could have started the fire. McMahon confirmed that was the case: "We used a cold tear gas, then … the next tear gas was that that was pyrotechnic, does generate a lot of heat. We introduced those canisters into the residence, and a fire erupted."
Another party heard from on Wednesday was Rick Heltebrake, the camp operator whose truck Dorner apparently hijacked after crashing the Nissan in which he fled police on Tuesday. "He said, 'I don't want to hurt you, just get out, start walking up the road and take your dog.'" Heltebrake told the Los Angeles Times. After Dorner took off in his truck, Heltebrake says he called a sheriff's deputy to report the incident.
"Someone owes me $1 million," Heltebrake told The Times. "It was my call that led the officers to him." Of course, he'll have to get in line with the women Dorner took hostage, who reported their ordeal to cops earlier in the day, and therefore have just as much of a claim to the reward as he does (which is questionable, as Dan Amira found out earlier). "I know there were two other women involved and I don't mind parting it three ways," Heltebrake said. But that presumes anyone gets the reward at all, which hasn't yet been decided.