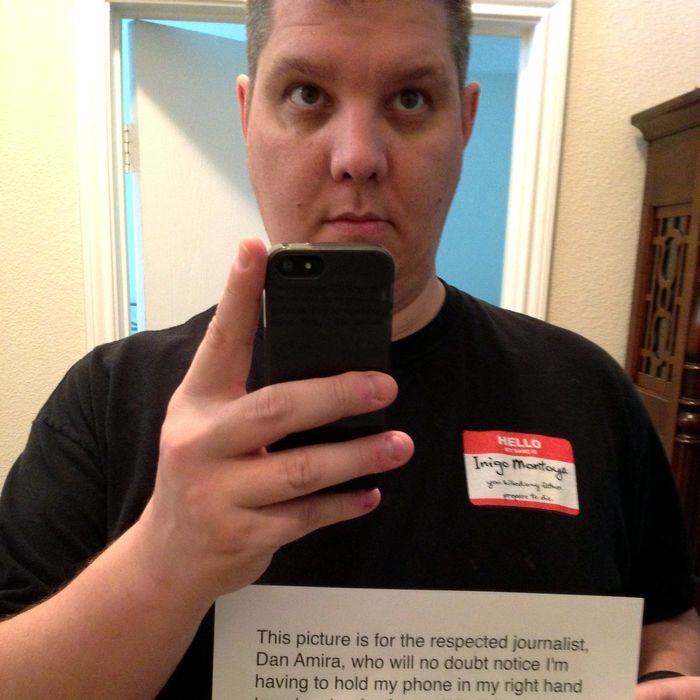 "This picture is for the respected journalist, Dan Amira, who will no doubt notice I'm having to hold my phone in my right hand to get a steady picture. Why? Because … I am not left handed."
Photo: Carl Stoneham
The failure to recognize famous Princess Bride quotes is, apparently, not a problem unique to Aussies and Kiwis. After reading the story of a man on a Qantas flight who unwittingly alarmed his fellow passengers with his Inigo Montoya shirt, a Texas Ph.D. student named Carl Stoneham got in touch with Daily Intelligencer to tell us of an almost identical incident from 2010.
Stoneham says he was sitting in an aisle seat on a Southwest Airlines flight from Denver to Dallas on August 17, 2010, when a flight attendant approached him and informed him in a low voice that some passengers were "expressing concern" that his shirt — emblazoned with a graphic of a name tag reading, "Hello, my name is Inigo Montoya, you killed my father, prepare to die" — may represent a "security risk." Though she didn't ask him to change his shirt, the flight attendant did suggest he not wear it on future flights.
"It all had a very low-key feel to it," Stoneham said. "I don't remember getting odd looks, so for all I know, some little old lady saw it, said something, the attendant calmed her, and then just passed a word of advice on to me." Stoneham tells us that people mistake the shirt's name-tag graphic for an actual name-tag "all the time," so maybe that contributed to the misunderstanding. 
Southwest has no record of the incident. But a spokesman told us, for the record, that the airline does not have a dress code. "It is neither our wish nor our desire to decide if a Customer's clothing is appropriate or not to fly on Southwest Airlines," the spokesman said. Employees should only confront passengers about their clothing if it is "lewd, obscene, or patently offensive."
There's never going to be much evidence of a quiet conversation between two people, but, on request, Stoneham went to great lengths to provide Daily Intelligencer with whatever proof he could muster. In addition to sending us his flight confirmation and his receipt for the T-shirt, which he bought from ThinkGeek in 2009, Stoneham photographed himself wearing the shirt and holding a sign referring to me as a "respected journalist." And, of course, no proof of life photo would be complete without a Princess Bride reference.