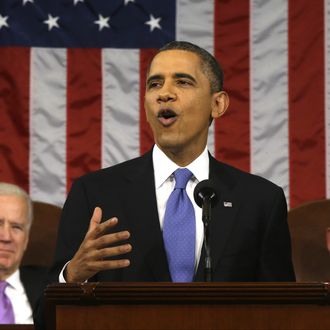 This is President Obama.
Photo: CHARLES DHARAPAK/AFP/Getty
Didn't have time to watch the State of the Union tonight? We don't blame you, really. It was an hour long — and a large percentage of that was just clapping — and really doesn't make a lick of a difference in the scheme of things. That said, here are some of the highlights.
Most Frequently Name-Checked Politicians:
1. Mitt Romney (twice)
2 (tie). John McCain, Joe Lieberman, John F. Kennedy, Aung San Suu Kyi, Gabby Giffords (once)
Word Most Likely to Be Googled: Majorette ("She was a majorette," Obama said of a teenage victim of gun violence.)

Least Predictable Word or Phrase: Fig Newtons (The gun violence victim liked eating them.)
Other Popular Words (just look at this word cloud):
Most Dubious Assertion: "Nothing I'm proposing tonight should increase our deficit by a single dime."
Oldest Person, Probably: 102-year-old Desiline Victor, who earned Obama's praise for standing in line for six hours to vote.
Most Toothless Tough Talk: "Provocations of the sort we saw last night will only isolate [North Korea] further, as we stand by our allies, strengthen our own missile defense, and lead the world in taking firm action in response to these threats."

Five Longest Applauses:
1. Victims of gun violence deserve a vote:  38 seconds
2. Shout-out to Desiline Victor: 30 seconds
3 (tie). "Our brave men and women in uniform are coming home.": 20 seconds
3 (tie). "The time has come to pass comprehensive immigration reform.": 20 seconds
5. "Tonight, I propose working with states to make high-quality preschool available to every child in America.": 17 seconds

Worst (Okay, Only) Joke: "And I know that you want these job-creating projects in your districts.  I've seen you all at the ribbon-cuttings." (We swear this was a joke.)

Most Emotional Moment: People crying as Obama calls for a vote on gun-control proposals.
Biggest Understatement: "The American people don't expect government to solve every problem. They don't expect those of us in this chamber to agree on every issue."
Saddest Thing That Actually Needed to Be Said: "The greatest nation on Earth cannot keep conducting its business by drifting from one manufactured crisis to the next."
Most Futile Suggestion: "Let's set party interests aside … "
Line That Would Be Most Out of Place in a State of the Union Address From the Year 1950: "We know hackers steal people's identities and infiltrate private e-mail."

Countries We Are Most Jealous Of:
1. Germany: "Right now, countries like Germany focus on graduating their high school students with the equivalent of a technical degree from one of our community colleges, so that they're ready for a job."
2. China: "As long as countries like China keep going all-in on clean energy, so must we."

Goal With Vaguest Path: "Let's cut in half the energy wasted by our homes and businesses over the next twenty years." Okay!

Line With Which the GOP Is Most Likely to Disagree: "We must do more to combat climate change."
Coolest Fact About Genome Research: "Every dollar we invested to map the human genome returned $140 to our economy."