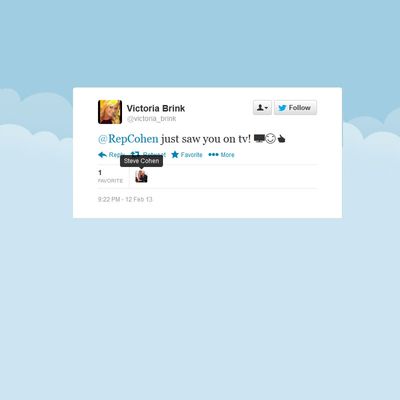 Update, 2/14/13, 7:15 p.m.: It turns out Victoria Brink is Cohen's daughter. See bottom.
Tennessee House Democrat Steve Cohen, like the rest of Congress, was forced to sit through President Obama's hour-long speech last night, clapping all the while, but like a college kid in lecture, he may have been peeking at his phone. At 9:22 p.m., less than midway through the address, the account @victoria_brink tweeted, "@RepCohen just saw you on tv!" complete with some emoji. Cohen "favorited" the tweet. And according to Politwoops, which archives the deleted messages of politicians, he responded — and then thought better of it.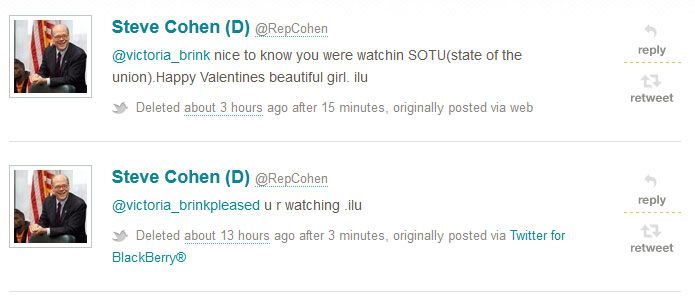 "@victoria_brinkpleased u r watching .ilu" [sic] Cohen wrote from his BlackBerry, and then deleted three minutes later. He followed up a few hours later with, "@victoria_brink nice to know you were watchin SOTU(state of the union).Happy Valentines beautiful girl. ilu," but deleted that, too.
Brink is a 24-year-old model and attended Texas State University, based on her College Dozen profile. She and the congressman have interacted on their public Twitter accounts since February of 2012, when Cohen favorited Brink's first tweet. (Cute!) Their other public interactions are actually pretty adorable also, if a bit TMI (h/t Gizmodo reporter Sam Biddle):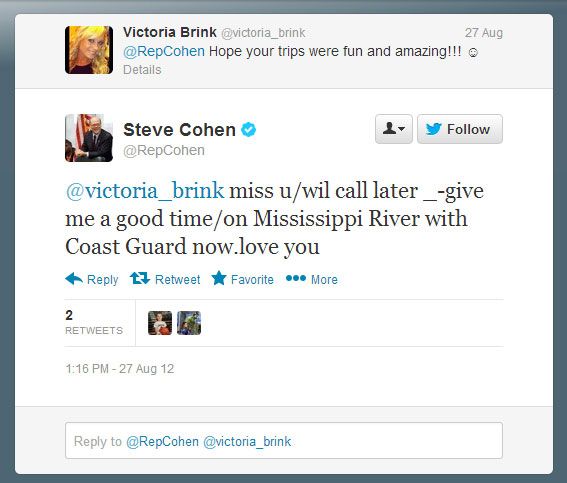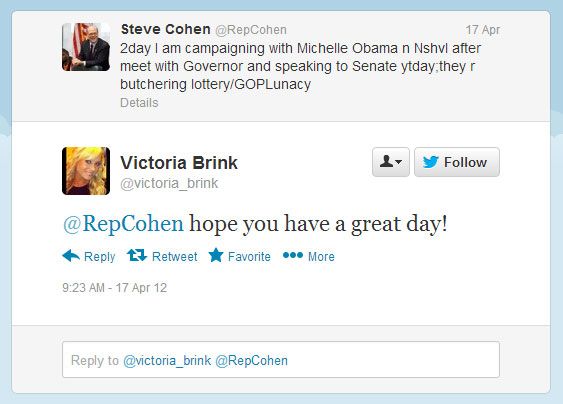 According to a 2007 article from the Hill, Cohen has never been married, but has "had many girlfriends in Tennessee over the years." (He had one — not Brink — at the 2008 Democratic National Convention.) "Having been out there so long, I used to be on the most eligible bachelors list," said the 63-year-old as a freshman congressman. "I don't think you get promoted to the emeritus level. I think you become ineligible."
We've reached out to Cohen's office to ask about his relationship with Brink and why last night's online sweet nothings were deleted, but we've yet to hear back.
Cohen, for the record, liked Obama's speech, even if he let his attention stray for a moment: He "told the president he pulled a Michael Jordan … Points, rebounds, assists and steals. He did it all."
Update: Reached by phone, Cohen's communications director Michael Pagan told Daily Intelligencer that the tweets were meant to be "private" direct messages. "She is the daughter of a longtime friend and they're pretty much like family," said Pagan, who insisted the relationship is not romantic. "He's known her pretty much her whole life. He has a longtime girlfriend in Memphis."
Asked if "Happy Valentines beautiful girl. ilu" was an odd private message for a much younger family friend, Pagan said, "I don't think so. Not in my personal opinion."
Update II: In a twist more soap opera than we could have even imagined, Luke Russert reports that Brink is actually Cohen's daughter. Despite Pagan telling us that Cohen had known her "pretty much her whole life," Russert says Cohen "only learned of her 3 yrs ago." Wow.