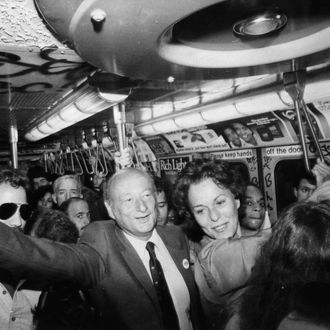 Koch on the subway.
Photo: Mary DiBiase/NY Daily News Archive via Getty Images
As Ed Koch is laid to rest today, Congresswoman Carolyn Maloney is pushing to rename the 77th Street stop on the 6 line after the former three-term mayor, who frequently campaigned at the station. The AP also reports that legislation to rename the station has been introduced in the City Council.
The MTA isn't high on the idea, noting that it has never named a subway after a person, ever. Partly — as MTA sources told the Post in 2009 when Councilwoman Letitia James wanted to rename Hoyt-Schermerhorn after Michael Jackson — this is because naming stations after people (as opposed to places, presumably) "could confuse riders," which seems reasonable enough.
Even if Maloney can't convince the MTA to budge, she won't come away empty-handed: Later today, she's announcing that the corner where the station is located — 77th and Lexington — will be renamed in honor of Koch. Also, he already has a bridge. A corner and a bridge is not a bad haul.