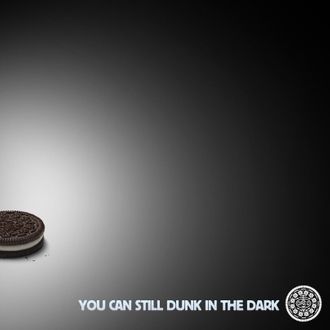 If you stayed tuned into the Super Bowl during that post-halftime blackout, you might have noticed that CBS didn't run many commercials during the unexpected break in the action. When not filling the time with chatter, "CBS seemed to repeat commercials that had already aired," Advertising Age pointed out. But if you were following along on Twitter you probably saw a number of companies racing to capitalize on the unique distraction. Twitter's advertising department boasted that "it took just four mins after the lights went out for the first Twitter advertiser to bid on [power outage] as a search term." Most notably, Oreo put together an ad within minutes that said "power out? No problem," with a link to a photo captioned, "you can still dunk in the dark." It got 10,000 retweets in the first hour.
According to Ad Age, Oreo's speed came from its "social media war room," where representatives who could green-light new ads watched the game with a team from their ad agency 360i, which came up with the tweet. They were tasked with monitoring response to the company's actual, multi-million-dollar television ad, but, "it's arguable … that 360i's simple little execution overshadowed Oreo's far more expensive TV ad, filled with stunts, that ran in the game before the blackout."
Elsewhere in the blackout, Calvin Klein captioned one of its sex-ay Vine videos "since the lights are still out," Tide went with, "We can't get your #blackout but we can get your stains out," and Audi made fun of Superdome sponsor Mercedes Benz. But Oreo seems to be getting most of the buzz.