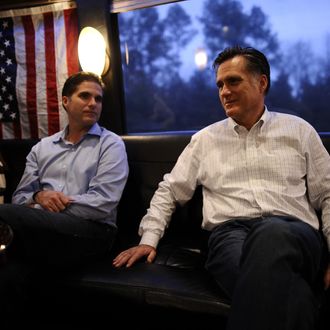 Smart move, son.
Photo: EMMANUEL DUNAND/AFP/Getty
Despite the fact that Massachusetts doesn't seem that enthusiastic about the Romney family these days, speculation that Tagg Romney might enter the special election for John Kerry's Senate seat ramped up today, following another unsubstantiated Boston Herald report that he's "considering a run." Late on Monday, Romney squashed the rumor, telling the Herald in an e-mail that he's "humbled" by the suggestion.
Tagg writes:
However, I am currently committed to my business and to spending as much time as I can with my wife and children. The timing is not right for me, but I am hopeful that the people of Massachusetts will select someone of great integrity, vision, and compassion as our next U.S. Senator.
Meanwhile, another potential Republican candidate whose name doesn't fit into the inevitable "Tagg, not it" headlines also dropped out.
Former Lt. Gov. Kerry Healey told the paper, "Yes, while I am grateful for and value the advice of those who have been urging me to run, I have decided not to be a candidate in this race."
Only two relatively unknown Massachusetts Republicans have confirmed that they're considering a run: State Rep. Dan Winslow and former Navy SEAL Gabriel Gomez. Though, the Washington Post remarks, "Worth noting: Ann Romney, who has also been rumored as a potential candidate, has yet to issue a statement about her own intentions." We also haven't heard a definite no from Romney's other four sons, his eighteen grandchildren, or Rafalca, but we're going to assume that the family needs a break from rough political campaigns right now.