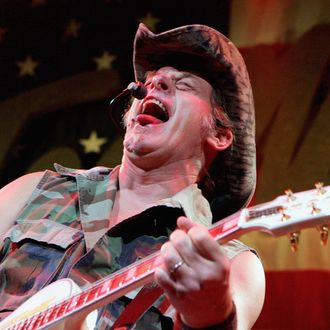 Rock artist Ted Nugent performs at the House of Blues inside the Mandalay Bay Resort & Casino during his Uncle Ted Remember the Alamo tour, July 30, 2005 in Las Vegas, Nevada.
Photo: Ethan Miller/Getty Images
Typically, State of the Union guests are inspirational everyday citizens who have overcome obstacles or performed heroic feats. On the exact opposite end of the spectrum, Texas congressman Steve Stockman has invited Ted Nugent — a man who has suggested Obama "suck on" a machine gun, vaguely threatened to assassinate Obama, and recently offered to start an uprising against Obama — to be his special guest at tomorrow's address.