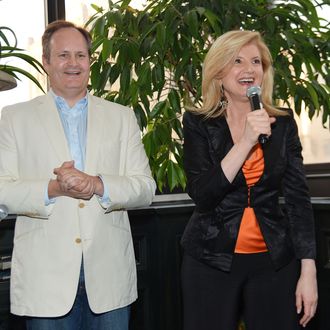 O'Brien and Huffington.
Photo: Mike Coppola/Getty Images2012 Getty Images
The Huffington Post executive editor who left the New York Times and helped bring the blog empire a Pulitzer Prize is vacating his job to write historical fiction. In a memo to staff today, Arianna Huffington explained that Tim O'Brien "is leaving to work on the second installment of his five-book publishing deal," the first of which, The Lincoln Conspiracy, came out last fall (and was feted with a Huffington book party). Following the announcement, Huffington "convened a meeting with top editors, newsdesk editors and national reporters," according to Capital New York, where she "cited a company policy dictating that employees can't write books while working at HuffPost." It's true.
"The policy is that anybody starting a new book must either leave employment or take a sabbatical," Huffington Post spokesperson Rhoades Alderson confirmed to Daily Intelligencer.
No replacement has been named, but Capital reports that the newsroom wasn't expecting a change in leadership. As one source put it, "What does it say that his departure would be announced over e-mail and catch everyone by surprise?"