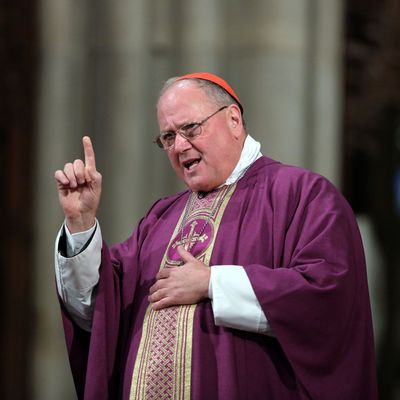 Photo: John Moore/Getty Images
Next week, New York Cardinal Timothy Dolan will be enjoying the comforts of Rome as part of the conclave that will choose the next pope, which could even be him, although his chances are considered slim. But first, the ugly stuff: Dolan was deposed for three hours yesterday about sexual abuse at the Archdiocese of Milwaukee, which he led from 2002 to 2009, where 575 people have filed claims against the church over the years. As the archdiocese attempts to file bankruptcy, lawyers for the victims want to know what Dolan knew and when.
"Today Cardinal Dolan had the long-awaited opportunity to talk about his decision nine years ago in Milwaukee to publicize the names of priests who had abused children and how he responded to the tragedy of past clergy sexual abuse of minors, during the time he was privileged to serve as Archbishop of Milwaukee," said an Archdiocese of New York spokesperson in a statement. "He has indicated over the past two years that he was eager to cooperate in whatever way he could."
An attorney for the plaintiffs sees it another way: "The deposition of Cardinal Dolan is necessary to show that there's been a longstanding pattern and practice to keep secrets and keep the survivors from knowing that there had been a fraud committed," he told the New York Times. A representative for the victims' group Survivors Network of Those Abused by Priests argued that Dolan "did a lot of creative maneuvering of priest sex offenders and creative accounting of church money," as previously reported, without punishing those responsible.
While Dolan's exact answers from yesterday are not yet known, the Survivors' Network plans to make his testimony public. Whether that will affect his distant chances to become pope, only the conclave really knows.