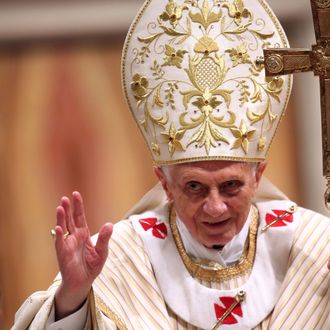 The Pope on Christmas Eve.
Photo: Franco Origlia/Getty Images
With just days to go before Pope Benedict XVI officially steps down as head of the Catholic Church, the Vatican has responded to a particularly interesting rumor about the reasons for his departure: On Friday, Italian newspaper La Repubblica suggested that blackmail related to the activities of a group of gay, high-ranking church officials was the real reason Benedict chose to give up his position.  While the Vatican initially kept quiet on the story, a spokesman now says that it's "misinformation," not to mention "gossip," "slander," and "calumny." And, as for recent questions about whether L.A. Cardinal Roger Mahony should even participate in the selection of the new Pope after he protected priests accused of sexual abuse, the Vatican spokesman chastised the media for exerting "unacceptable pressure to condition the vote of one or other member of the college of cardinals." After all, these guys have a great record of policing themselves.