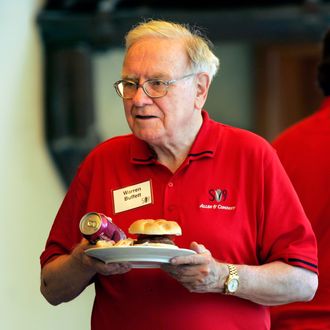 This man is singlehandedly saving our economy.
Photo: Douglas C. Pizac/Corbis
Among the staples of business news coverage, the deal comeback trend story is perhaps the easiest to predict.
Here's how it works: Inevitably, when three or four big deals — with headline values totaling above, let's say, $30 billion — are struck within the space of a week, and at least one of those deals involves a company people have heard of, writers begin churning them out. These stories largely follow a similar pattern: a first sentence that declares "big deals are back," a few paragraphs of speculation as to why major companies have started merging and acquiring all of a sudden, some high-yield bond figures, and the inevitable gleeful quote from JPMorgan's top dealmaker, Jimmy Lee, who is to these kinds of stories roughly what Lena Dunham is to "Sunday Styles" stories about Brooklyn.
Both the Times and the Journal have front-page versions of these stories today, so you know the trend threshold has been breached. Both stories cite Warren Buffett's private-equity deal to buy Heinz, Michael Dell's management-led buyout of his computer company, and American Airlines' merger with U.S. Airways as evidence that rising stock prices and the availability of cheap debt has made big deals possible again.
"Since the crisis, one by one, the stars came into alignment, and it was only a matter of time before you had a week like we just had," Jimmy Lee told the Times.
"The dam is burst," he turned around and told the Journal.

The evidence for a buyout boom breaks down a bit when you actually examine the deals. Michael Dell's buyout of Dell has little to do with rising stock prices (in fact, it's happening because Dell thinks his company is undervalued). The AA/U.S. Airways merger is less an optimism-fueled merger of equals than a pity takeover by U.S. Airways and has been in talks since last year, when American Airlines' pilots began literally sabotaging their own planes to complain about the state of their labor negotiations. And Warren Buffett never really stopped doing deals during the financial crisis, even though the ones he did were less of the "team up with a private-equity firm to buy a ketchup-maker" variety and more of the "lend money to failing financial institutions at usurious interest rates" variety.
But it's true that the junk-bond market is enabling more leveraged deals, and that the stock market being at multi-year highs has probably had some emboldening effects among merger-shy corporate executives. So let's just go with it: Deals are back! The Times and the Journal have declared it so! It's a big day for M&A bankers on Wall Street, who are sure to spend the long weekend celebrating their good fortune. Liquor stores on the Upper East Side, you might want to restock the Dom.
Update: I mixed up U.S. Airways and United Airlines above, and have since corrected.