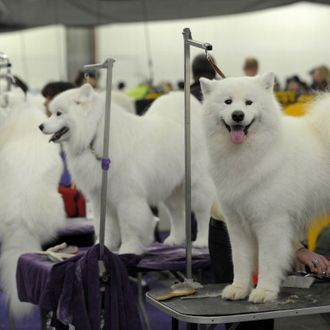 We all know PETA is no fan of the Westminster dog show, but the relationship between animal rights activists and show participants must be a lot more fraught than anyone realized if the handler of a dog that died following the competition is blaming them for poisoning it. There's still no clear cause of death for Cruz, the 3-year-old Samoyed, who died in Colorado following the Westminster show, but "he had symptoms that strongly resembled those of dogs that had ingested rodent poison," the New York Times reports, and his handler suspects foul play by animal rights activists. Handler Robert Chaffin has no evidence and no proof the dog was even poisoned. But somebody did give him a dirty look.
Chaffin said he remembered a stranger at the Westminster show who glared at him and made a disapproving remark about Cruz's vocal cords having been removed to quiet his bark, a process known as debarking.

"It would have been easy for someone to throw something in his cage," Chaffin said.
Yeah, and it would have been easy for the dog to eat something off the ground or have a "rare genetic disorder, like hemophilia," or get choked by Darth Vader's mind. Since nobody did a necropsy before deciding it was probably animal rights activists, there's no proof either way. PETA, naturally, denies any involvement. "PETA does not sanction that," founder Ingrid Newkirk told the Times. "It's so scurrilous; it's so low to even suggest it."