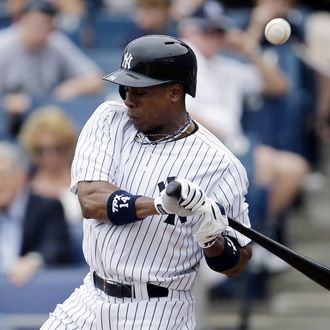 Ow.
Photo: Matt Slocum/AP
When you think of the Yankees' most indispensable players, you think of CC Sabathia, or Robinson Cano, or even Derek Jeter, with good reason: They essentially have no backups. One wouldn't necessarily have thought of Curtis Granderson — a guy who hit .232 last year and was sort of in danger of being moved out of center field anyway — in that fashion, until yesterday, when Blue Jays pitcher J.A. Happ plunked Granderson on the right arm during his first at bat all spring. The arm ended up breaking, and Granderson will miss about two months. The good news is that the season doesn't start for more than a month. The bad news is that the Yankess have no one to replace him. Like, at all.
Granderson, who has hit more home runs the last two seasons than anyone else in baseball, won't be back until May at the earliest, leaving the Yankees with a big gaping hole in the outfield. This is not what you want on the second freaking day of spring training, particularly when you have an older roster that is already dealing with one serious injury (Alex Rodriguez) and the rehab of two others (Jeter, Mariano Rivera). And this is definitely what you don't want in the outfield.
Granderson's injury doesn't just mess him up; it also messes up Brett Gardner. The plan for the first month or so of the season was to occasionally put Granderson in left field to see if he could play there, train him up; Gardner's a better center fielder, and the Yankees would like to get him there eventually, but you had to make the transition easy. There won't be time for an easy transition in the middle of the season; as Wallace Matthews pointed out, the injury may in fact lead to Granderson keeping his center field job when he wouldn't have otherwise.
So what do the Yankees do between now and when Granderson returns? The one thing they won't do is trade for Alfonso Soriano, as was briefly discussed in the immediate wake of the injury. The Yankees would be putting themselves in a situation where they'd have to pay $38 million (or a little less if they could get the Cubs and Theo Epstein to pick up some of the tab) for a guy they'd be starting for, oh, a little more than a month. Also: Soriano isn't sure he'd wave his no-trade clause to return to the Bronx, so there's that. Get that out of your brains. Not happening.
Which means the newly thinned Yankees must look within. Gardner will shift to center, so with Ichiro in right field, left field is the primary hole. The leading candidate is Juan Rivera, meant to be a right-handed bench bat. (He made his debut with the Yankees back in September 2001.) Matt Diaz is a similarly well-traveled candidate. They could also try one of their minor leaguers, most likely the terrifically named Zoilo Almonte, who Brian Cashman has said could be a starter in the majors. The problem is that no one else says that. Baseball America doesn't even have Almonte in its top 30 Yankees prospects, and ESPN's Keith Law doesn't have him in his top 10. Jonathan Mayo of MLB.com has Almonte at No. 10, writing, "some see him as more of a fourth outfielder when all is said and done, but if the overall hitting abilty can come, he still has the chance to be an everyday corner outfielder." So if he impresses this spring, he has a chance, particularly because he's a switch hitter.
Possibilities from outside the organization include Johnny Damon and Scott Podsednik, both currently unemployed but looking for work. (Bobby Abreu would be a possibility, too, but also: Yikes.) Our guess is that the Yankees don't sign any of those guys, and Rivera ends up starting in left on opening day, and everyone stares at Granderson for another month-plus, asking him "So, how's your arm? How's your arm? Hey, the arm, how's it going?" over and over and over.