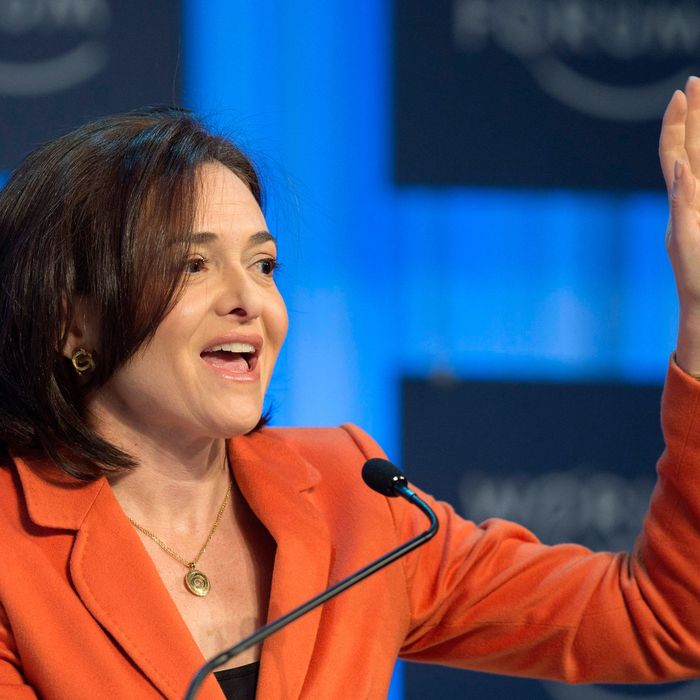 Photo: JEAN-CHRISTOPHE BOTT/Corbis
It's tempting to read Jodi Kantor's Times story about Facebook COO Sheryl Sandberg's new Lean In book and accompanying female-empowerment movement as a prelude to a run for public office, and many have done exactly that. But for those of us who follow the personnel machinations of the tech sector, the story poses other questions, first among which is this:
Sandberg is about to leave Facebook, right?
Kantor speculates that Sandberg's full-court PR press for Lean In, coupled with the fact that she apparently "plans to use her vacation days" to both promote the book and form a huge network of women's groups for the movement that goes with it, means she is not long for Menlo Park:
Though she insists she is committed to Facebook, which might be awkward for her to leave given its rocky initial public offering, some wonder whether "Lean In" is the first step toward a new career for her, perhaps in politics.
I read Sandberg's smoke signals a bit more aggressively: I predict she will leave Facebook within the next year. In fact, I think she would be crazy not to.
To understand why, it's worth looking back at why Sandberg came to Facebook in the first place. In 2008, when she was hired away from Google, Sandberg was tasked first and foremost with turning the still-young social network into a full-fledged business. She was the proverbial "adult in the room" for a Silicon Valley start-up that had a bunch of users and a lot of hype, but no real plan for making money or creating lasting value.
Sandberg had no special affinity for social networking – indeed, as Ken Auletta wrote in his 2011 New Yorker profile, the reason Sandberg took the Facebook job over a cushy position at the Washington Post Company was that Facebook "seemed to have better prospects than newspapers and she didn't want to move to D.C." She came because she thought she could use her skills as a professional manager to give Facebook the maturity it needed.
Five years later, thanks in large part to Sandberg's leaderhip, Facebook is all grown up. After a jittery IPO, it has seen its stock price stabilize and its revenues climb. Mark Zuckerberg, who used to actively disdain the financial sector, now peppers his speeches with the jargon of Wall Street, and seems in most ways to have grown into the role of a public CEO. And the company has all the marks of a mature industry player – lobbyists, a massive PR apparatus, and a new Frank Gehry-designed headquarters in the works.
Now that Facebook is sailing along smoothly, staying longer can only hurt Sandberg. It's not hard to imagine the ways Facebook could be a liability for her political prospects: There could be a privacy scandal, a management slip-up that would implicate her, a sudden financial disaster that would draw her judgment into question. It's true that Facebook is a more stable company than at any point in its history, but it's still in a notoriously volatile industry, one where empires rise and fall overnight.
More to the point, Sandberg already has all the credentials she would need to run for office. She has a world-class Rolodex, filled with power brokers and statesmen of all types. She's plugged in to the Davos crowd, and has no shortage of potential donors and supporters. She has a ten-figure net worth she could use to self-finance a political run, and a seat on Facebook's board, which would allow her to maintain involvement with the company even if she was no longer COO. And, soon, she will have a bestselling book and a nationwide network of women's groups in her corner.
Facebook has been good to Sandberg. It has made her a billionaire, given her a national profile, and made her known as a superhero among young women. But unless she were to displace Zuckerberg as CEO (which she won't), there's nowhere higher to go at the company. Throughout her career, Sandberg has shown that she is drawn to the novel and risky. And given the choice between staying the COO of an established tech company whose most exciting days may be behind it and striking out on her own, I'd think she'd be more compelled to try the new thing full-time.
Now, instead of sneaking her passion project into her vacation days, it might be time for Sandberg to make a gracious exit. And despite her insistence to the contrary, I think she's probably considering it, too.