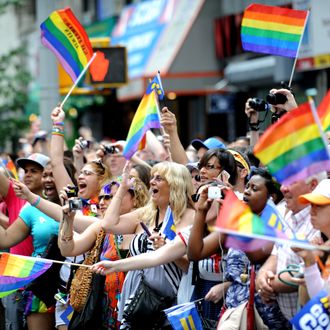 Spectators cheer during the New York City gay pride march June 26, 2011. The New York state legislature voted June 24 to become the sixth state in the US to legalize same-sex marriage.
Photo: STAN HONDA/AFP/Getty Images
On Friday, a White House lawyer submitted a brief calling DOMA unconstitutional because it violates "the fundamental guarantee of equal protection" by denying federal benefits to same-sex couples married under state laws. While the administration has been urging the Court to overturn DOMA for a couple years, the strong language of the argument — submitted in anticipation of the upcoming March hearing on the 1996 law — indicates that President Obama might be ready to embrace a federal right to gay marriage by also calling for the end of Proposition 8, which will be evaluated alongside DOMA.