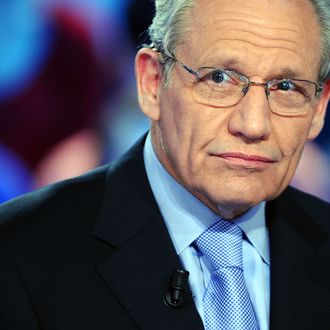 Photo: Miguel MedinaMIGUEL MEDINA/AFP/Getty Images
Since writing a column last weekend that argues the Obama administration invented sequestration and is now "moving the goalposts" by asking for revenue increases in addition to spending cuts, Bob Woodward has become, as Politico puts it, the "unlikely darling of the right wing." Judging from the legendary reporter's latest move, it seems he's embracing that role. On Wednesday, Woodward told CNN that last week a "very senior person" at the White House told him his argument is factually wrong, then threatened him in an e-mail. "It was said very clearly, 'you will regret doing this,'" Woodward said.
Woodward also invited two Politico journalists to his home and elaborated on the White House official's alleged intimidation tactics. He says that after calling to inform the White House that he would be questioning the president's account of sequestration's origin, the Obama aide, "Yelled at me for about a half hour." The aide followed up the call with a page-long e-mail in which he wrote, "I apologize for raising my voice in our conversation today." However, he also told Woodward, "You're focusing on a few specific trees that give a very wrong impression of the forest. But perhaps we will just not see eye to eye here," then added, "I think you will regret staking out that claim."
Politico reports that "Woodward repeated the last sentence, making clear he saw it as a veiled threat," though that's debatable. Woodward has only shared snippets of the e-mail, and another White House official tells the Huffington Post that this wasn't an ominous remark made in a shadowy parking garage, but a friendly observation that pushing a false argument isn't good for one's career:
"Of course no threat was intended. As Mr. Woodward noted, the email from the aide was sent to apologize for voices being raised in their previous conversation. The note suggested that Mr. Woodward would regret the observation he made regarding the sequester because that observation was inaccurate, nothing more. And Mr. Woodward responded to this aide's email in a friendly manner."
However, Woodward is sticking to the more sinister interpretation, and tied the incident to the Obama administration's ongoing feud with the press over its lack of transparency on matters such as Benghazi and drone attacks (but mainly golf with Tiger Woods). Woodward told Politico:
"I think if Obama himself saw the way they're dealing with some of this, he would say, 'Whoa, we don't tell any reporter 'you're going to regret challenging us.' … I've tangled with lots of these people. But suppose there's a young reporter who's only had a couple of years — or 10 years' — experience and the White House is sending him an e-mail saying, 'You're going to regret this.' You know, tremble, tremble. I don't think it's the way to operate."
The White House aide (Gene Sperling, the director of the White House Economic Council, according to BuzzFeed's sources) might actually be right about Woodward's argument. Many people debunked the Washington Post column, including Jonathan Chait, who said Woodward's sequestration claim "is very narrowly true, but it's a meaningful point only if you ignore everything that happened before and after." However, thanks to the aide's use of the word "regret," the focus will now shift from Woodward's argument to whether or not the White House is bullying reporters — particularly because that's more entertaining than actually talking about the sequester.