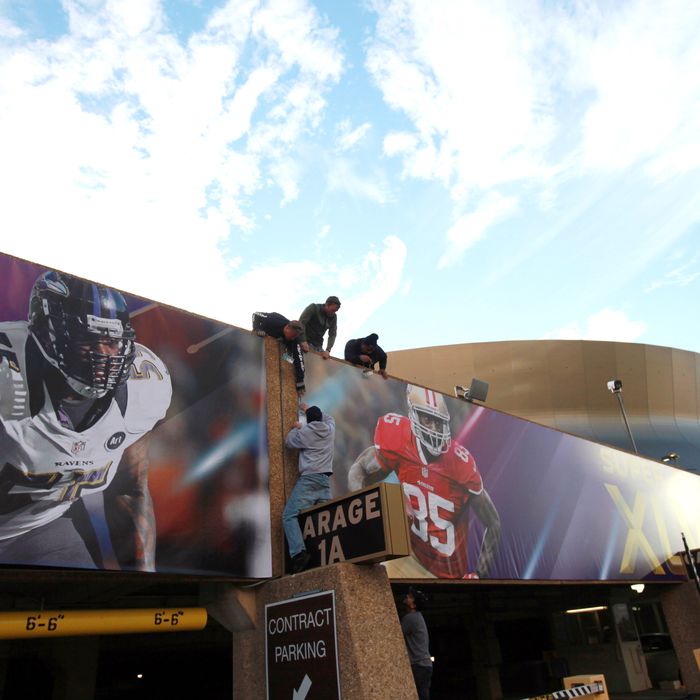 The halftime show should star Nicolas Cage and be directed by Werner Herzog.
Photo: Rob Carr/Getty Images
For a considerable number of Americans, Sunday's Super Bowl will be the one sporting event they will watch all year. We suspect this includes quite a few of you. So we thought we'd put together this handy FAQ that should give you all of the information you will need to bluff your way through those bits that come between the commercials.
So, who's playing?
The Baltimore Ravens and the San Francisco 49ers. The Ravens are playing in the first Super Bowl since beating the Giants in 2001; the 49ers haven't played in the Super Bowl since 1995.
Is Tom Brady on either of those teams?
He is not. He plays for the New England Patriots. The Ravens' quarterback is Joe Flacco, who is a free agent after the season and could make himself quite a bit of money Sunday evening. The 49ers' quarterback is Colin Kaepernick, who only won the starting job in mid-November but has become one of the most exciting players in the league. He also has a habit of kissing his biceps after he does something awesome; it's less obnoxious that it sounds, but only a little.
Are the coaches related or something? I think I saw something on the Today show about that.
They are. John Harbaugh coaches the Ravens, and Jim Harbaugh coaches the 49ers. (John is twelve months older.) You will see many, many shots of their parents during the game. Like all football coaches, the Harbaughs are insane but not particularly unlikable. The coverage of this will be less obnoxious than if the Manning brothers were to play each other in a Super Bowl, but only a little.
Ray Lewis must be the best football player in the world, right?
Hardly. Lewis, who was the MVP of that Super Bowl in 2001, is retiring after this season, and you can argue it's a year or two late. He still racks up a bunch of tackles, but that's a lousy way to gauge a defensive player's effectiveness. He's a step or three slow and tends to drift in pass coverage. He's more an emotional leader than a defensive standout anymore. But mostly: He's a relentless self-promoter. He has perfected the art of getting cameras on him at all times, from every possible angle.
Didn't he kill a guy?
He was never convicted. He is the only person to be charged in the murder of Richard Loller in January 2000, but with obstruction of justice. Lewis isn't particularly fond of discussing the case, but note that the victim's family feels otherwise. Lewis, of course, has turned the crime into his own redemption narrative, the story of his journey to self-discovery.
Man, Ray Lewis is a dick.
He really is. Oh, and don't ask him about deer-antler spray.
So we should be cheering for the 49ers?
Well, they have a lot of assholes, too, most notably homophobe Chris Culliver. But frankly, a ton of NFL players are homophobes. It's football. (We are waiting for someone to ask Ray Lewis what he thinks of gays.) If you're going to enjoy sports, it's best not to think so much about what the people who play the games are like in real life.
Isn't football really dangerous? Like, in a cockfighting way?
Maybe not that bad, but yeah: It's becoming a problem. You can argue that head injuries and player safety are the third biggest story line of this Super Bowl, and that's exactly the opposite of what the NFL wants. Of course, if there's an injury in the Super Bowl, that will just give CBS more time to show commercials.
Anything else?
Honestly, that's pretty much it. Just hope the game is close. When the Super Bowl is close, it's so exciting that you forget everything that's annoying about the Super Bowl and get swept up in it. Like last year. You might remember.
Who's gonna win?
Everyone's picking San Francisco, but as exciting as Kaepernick is, he's still inexperienced at the position. We can see a tight game turning on a mistake in the final minutes. We'll call it Ravens 27, 49ers 24, and then accept that Ray Lewis is never, ever going to leave our television sets.