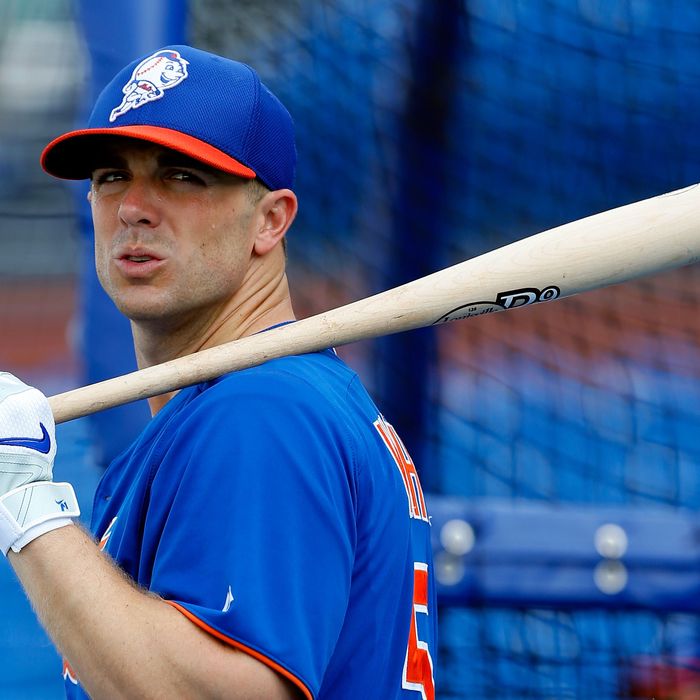 Love the new hat.
Photo: Chris Trotman/2013 Getty Images
As tends to be the case with the Mets, matters not involving baseball overshadowed matters that did this off-season. The moves the Mets made, personnel-wise, were not bad ones: Signing David Wright long term was smart, and getting two top 100 prospects for R.A. Dickey is more than anyone could have reasonably expected. But no one's talking about that. They're talking about how Dickey was trashed on the way out the door; they're talking about Johan Santana's anger; they're talking about Amway. Same as it ever was.
With opening day coming up on Monday, let's preview the Mets.
LINEUP
2B Jordany Valdespin
SS Ruben Tejada
3B David Wright
1B Ike Davis
RF Marlon Byrd
LF Lucas Duda
CF Colin Cowgill
C John Buck
David Wright won't be in the opening-day lineup, of course, and eventually Daniel Murphy's gonna take over that second-base spot from Valdespin, who will probably find his way into the lineup anyway. This lineup is a little better than it looks — Tejada has legit on-base skills, Byrd's had a great spring and is only a couple of years removed from being a productive player, and we really think Ike Davis might bust out this year — but don't kid yourself: This isn't going to scare many people. (Particularly with Justin Turner filling in for Wright for a while.)
ROTATION
LHP Jon Niese
RHP Matt Harvey
RHP Dillon Gee
RHP Shaun Marcum
RHP Jeremy Hefner
What was supposed to be a Mets strength is turning into a weakness because of injuries. Marcum was supposed to start the second game of the season but now might begin the year on the disabled list, and of course Johan Santana is mired in all sorts of drama right now. Marcum was a cheap addition because of his injury history, so now of course he is injured. The real question is when the Mets will see Über-prospect Zack Wheeler. It won't be before May, and maybe not until after that, which is smart.
BULLPEN
RHP LaTroy Hawkins
RHP Brandon Lyon
RHP Scott Atchison
LHP Josh Edgin
LHP Robert Carson
RHP Jeurys Familia
RHP Bobby Parnell
Parnell's going to be closer until Frank Francisco comes back, and maybe afterwards, too. This is a rather amusing mix of faded prospects and elderly middle guys.
OUTLOOK
There are those who are positive about the Mets: Baseball Prospectus gives them a 30.8 percent chance of making the playoffs. We're not quite ready to go that far. That bullpen looks a little scary, the lineup is thin, and the rotation is riddled with injuries. In the long term, the moves Sandy Alderson have made have been smart ones; the Wheeler–Travis d'Arnaud watch is going to be a fun subplot all season. But the NL East is stacked, particularly up top (you can make an argument the best two teams in baseball are in the division), and the Mets just won't be able to hang in. .500 should be a goal, but besting 2011's 77 wins might be a more reachable mark.
Prediction: 78-84, fourth place in the NL East