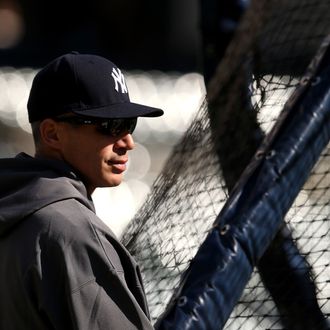 He'll be photographed in lots of shadow this year.
Photo: Jonathan Daniel/Getty Images
Yesterday, we previewed the New York Mets and found ourselves trying to talk ourselves into believing they've got a shot at .500. Today, we hit the Yankees, and we find ourselves obliged to remind everyone that they are not, in fact, the Mets. We made this argument in the magazine this week, so it's worth breaking it down, position by position, to see how it holds up. Let's look at the 2013 Yankees.
With Opening Day coming up Monday — against the Red Sox at the Stadium no less — let's take a gander.
LINEUP
For the sake of your eyeballs, we're going to give you the Yankees' ideal starting lineup, the one when everyone's healthy (excluding A-Rod, of course).
SS Derek Jeter
RF Ichiro Suzuki
2B Robinson Cano
1B Mark Teixeira
3B Kevin Youkilis
LF Curtis Granderson
DH Travis Hafner
C Chris Stewart
CF Brett Gardner
Because here's what the Opening Day lineup's going to look like:
CF Brett Gardner
RF Ichiro Suzuki
2B Robinson Cano
3B Kevin Youkilis
DH Travis Hafner
LF Vernon Wells
1B Dan Johnson
SS Eduardo Nunez
C Chris Stewart
What stirring introductions they're gonna have at Yankee Stadium on Monday.
ROTATION
LHP CC Sabathia
LHP Andy Pettitte
RHP Hiroki Kuroda
RHP Ivan Nova
RHP Phil Hughes
Hughes may begin the year on the disabled list. The Yankees actually have some depth here, with David Phelps filling in for Hughes at the beginning of the year and Michael Pineda theoretically returning sometime this summer. For all the doom-and-gloom talk about the Yankees, this rotation is one a lot of other teams would love to have, including just about everybody else in their division.
BULL PEN
RHP David Robertson
LHP Boone Logan
RHP Joba Chamberlain
RHP Cody Eppley
RHP Adam Warren
RHP David Aardsma
RHP Mariano Rivera
The bull pen is more unbalanced than you'd like, but even with the loss of Rafael Soriano, it's strong, assuming of course Rivera is still Rivera in his final year. We see no reason to think he won't be. It's possible lefty Shawn Kelley gets Aardsma's spot.
OUTLOOK
Hey, we've already made our thoughts on this rather clear: We think people are letting the Yankees' lousy off-season distract them from what are still real team strengths. Sure, the injuries are scary, and Vernon Wells is hilarious. But if this team can hold down the fort until everyone returns — if they can be at or slightly above .500 around Memorial Day — we think they've got a real chance to win this division. It is not like anyone else is going to be running away with this division. We bet a lot of today's prognosticators are going to look like Cassandras come September.
Prediction: 89–73, first place, first place in the AL East.