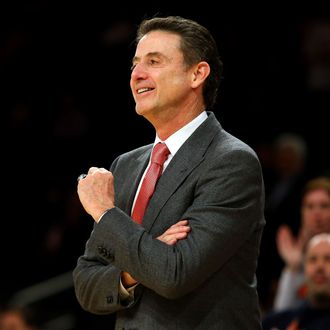 Your Vegas favorite.
Photo: Al Bello/Getty Images
Yesterday, the 2013 NCAA Tournament bracket was released, and any minute now, someone is going to come by your desk and ask you to join the office pool. (Or you woke up with fifteen invites in your mailbox.) We are going to be the next to do that: Join the 2013 New York Magazine Pool. Winner gets a big sugary soda. Your office pool may provide more fruitful rewards. We're hesitant to give away all our tricks, but we're not afraid to be service-y and list-y, so here are five tips to filling out your bracket.
1. Do not pick a 16 over a 1. Ever. We know, you want to make a big splash with the big upset. But since the tournament expanded to 64 teams in 1985, no 16 has ever beaten a 1. There have been a couple of close calls: Princeton almost beat John Thompson's Georgetown team (back when Ivy League teams got No. 16 seeds), and in 2006, Albany actually led Connecticut in the second half. But this is definitely not the year: Rampant upsets in the low-major tournaments ended up creating an unusually weak batch of No. 16 teams, even our own LIU Brooklyn, which plays James Madison in the No. 16 play-in game on Wednesday night. Don't get cute.
2. Don't try to predict what other people are doing, and easy on the upsets. This is the primary strategy of a bracket predictor website rather unfortunately named Poologic. They tell you when to zig when most of America is zagging. This sounds good in theory — you must separate yourself from other ballots somehow— but the key to a winning bracket is getting games right, not different. When you keep trying to make "daring" choices all the time, you end up with four underdogs in the Final Four when, in an average year, not even one is likely to make it.
3. Don't watch games. We've written about this before, but people who study this stuff say the biggest bias mistake people make is believing their own stupid eyes. The world of college basketball is vast and confusing and inconsistent, and we're talking about teenagers who sometimes aren't focused on a particular night. If you are a Syracuse fan, chances are you watched the Orange play several of the teams in this year's tournament and therefore think you understand those opponents (or even Syracuse) better. You don't, or at least you don't know their opponents better. You are more likely to pick for or against a team because of how they played against Syracuse, but they're not playing Syracuse. We're going to have this problem with Illinois: The Illini beat Gonzaga and Butler handily, so therefore we just don't think either of those teams are that good, even though they just had bad nights against the Illini. Ignore your lying eyes.
4. Make your daring decisions late. The trick to winning is often being as safe as possible until the late rounds, where the points are worth more, when you pick a team to win the title that most people aren't picking. You can pick a Final Four that's all No. 1 seeds (or "chalk," as they say), but the real money is in picking Gonzaga to win it all, since most people won't. Assuming, of course, they actually win.
5. Trust Vegas. The last time we looked at this, all the statisticians told us one thing: listen to Vegas odds. Not because Vegas oddsmakers are so smart, though they typically are. But because usually the most accurate predictor of college basketball is simply crowdsourcing, which is of course what Vegas is. To paraphrase ourselves, don't trust your lying eyes … but trust everybody else's. By that rationale, your favorite is Louisville, and be vary wary of Gonzaga and Miami (Florida).
Or just pick whichever team's mascot could more easily kill the opposing team's mascot. Also a strategy. No matter how you do it: Join the New York Magazine pool.