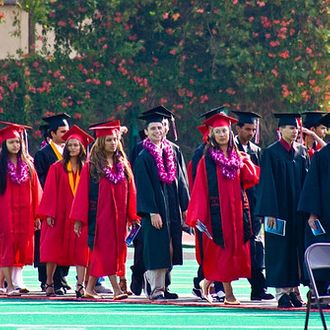 An unfortunate story on CBS New York Thursday carried this headline: "Officials: 80 Percent Of Recent NYC High School Graduates Cannot Read." It's a shocker, but it's also untrue. And to make things worse, the story that followed was riddled with typos. According to the New York Post, which reported the same story earlier on Thursday, "79.3 percent of city public-school grads who went to CUNY's six two-year colleges arrived without having mastered the basics" of reading, writing, and math, and had to take non-credit remedial classes to catch up. That's not good, but to say 80 percent of high school graduates can't read is stretching things. Eight-year-old Harry Potter fans probably haven't mastered the skills to do college-level work either, but they can still read.
Nowhere in CBS New York's story does it support the headline's claim. Rather, like the Post, it reports that "80 percent of those who graduate from city high schools arrived at City University's community college system without having mastered the skills to do college-level work."
We've reached out to CBS New York, and will update this post with their comments.
Ironically in a story about illiteracy, typos were not hard to find. The report has been updated to fix them, but until late Thursday night the last few paragraphs were a mess:
"They get lost sometimes in the classrom and in CUNY Start we give them a lot more one-on-one attention, small grouip work. It helps them achieve more in a short amount of time and so they're able to get on with their credit classes," Mason said.

Nicholas Gonzalez, a graduate of New Utrecht High School in Brooklyn, participated in the CUNY Start program. He said he would never had been able to face college credit classes without it.

"I was nervus about how hard it was going to be, how much of a chnage it was going to be from high school," Gonzalez said. "I knew I needed to take remedial, If I started right away with credit classes it wasnt going to be so well, so it's better off starting somewhere."
Admittedly it's cheap to pick on typos, since every single writer makes them. But they sting extra bad(ly?) in this context.
Update: CBS New York changed its headline to this: "Officials: Most NYC High School Grads Need Remedial Help Before Entering CUNY Community Colleges"