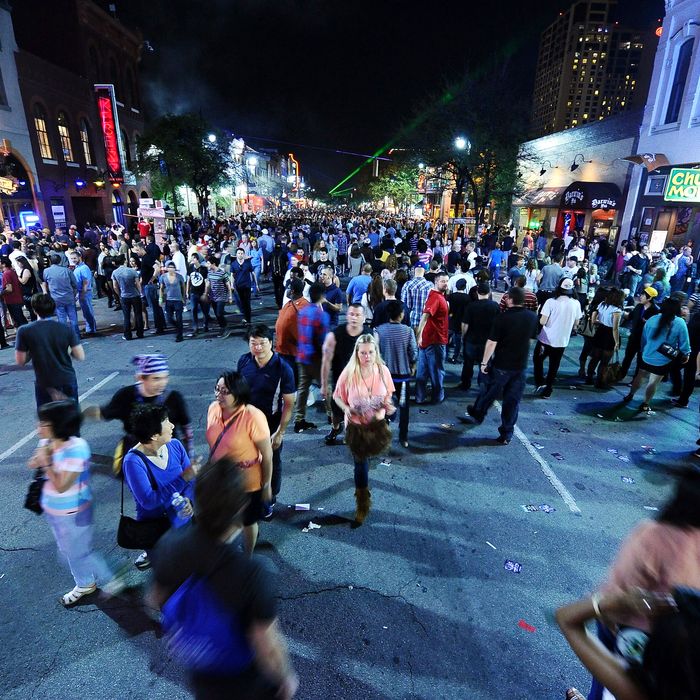 A general view of 6th Street during the 2012 SXSW Music, Film + Interactive Festival on March 16, 2012 in Austin, Texas.
Photo: Michael Buckner/Getty Images
SXSW, or "South-by," as the cognoscenti call it, is the yearly tech gathering that brings a bunch of start-up entrepreneurs to Austin, Texas, where they eat tacos, sleep in overpriced hotel rooms, and harass tech bloggers to gain attention for their companies. (There are also film and music festivals, but tech is the main attraction.)
I've never been to SXSW, but I understand there are yearly traditions. There's the part where a rich tech company spends millions of dollars putting on a concert featuring a famous pop act. (This year's rumored guest is Snoop Dogg/Lion; last year's was Jay-Z.) There's a battle between two competing start-ups that are essentially identical. There's the annual hideously offensive marketing gimmick.
But the main events are the panels — hundreds of panels, many of which are filled with jargony nonsense about "collaborative consumption" and "SoLoMo." Here are nine of the worst-sounding panels on this year's official SXSW schedule, as well as reasons to skip them.
1. The Making of a Meme
Description: "From Instagram to LOL Cats to Tumblr, few things on the Internet are more tempting than a picture with a sense of humor or a vintage filter."
Who will be there: People who have participated in multiple Harlem Shake videos; no one who has created a successful meme, ever.
What they'll say: "Did you see the goat remix with Carly Rae Jepsen and the Trololo guy? Amazeballs!"
2. B2B Social Marketing: Blazing New Trails
Description: "For some, the brand interaction ends with the sale, missing opportunities to interact with customers and move them from happy customers to brand advocates. In other words, some brands aren't yet telling their story in a modern way."
Who will be there: Social media experts, the twelve people on Earth who liked that Oreo Super Bowl ad, people who put hashtags like #thinkfluencer and #guru in their Twitter bios.
What they'll say: "Our RTM guys are total ninjas."
3. GEEKSTA PARADISE: The Ballers of Uber, Airbnb + GitHub
Description: "Come hang with Dave McClure, Eric Ries, & 1,000 tech startups + influencers for a day of tactical case studies & inspiring keynotes about what it actually takes to build a killer startup."
Who will be there: Hundreds of brogrammers, all hung-over from Edward Fortyhands the night before.
What they'll say: "Dude, we pivoted our freakin' pivot."
4. Blogging is Dead: Long Live the Individual
Description: "Join user-generated content expert Simone Smith as she discusses how the individual is coming back to the world of UCG- and sharing work that is richer and more comprehensive than ever before."
Who will be there: People who know what UCG is, mommy bloggers, Andrew Sullivan manqués.
What they'll say: "Let's talk about leveraging our personal brands."
5. The Future of Porn
Description: "Cindy shares the experience of subsequently battling every possible barrier society could produce, to turn MakeLoveNotPorn into a business venture and the insights that process has provided on the biggest sociocultural influence on young people today that we don't talk about; how the porn industry can reinvent itself and its business model; and the huge opportunities the tech world is missing out on."
Who will be there: Neckbeards and virgins.
What they'll say: Nothing — they'll be too busy mentally undressing Cindy.
6. Why We STILL Love the Honey Badger
Description: "The Crazy Nastyass Honey Badger is pretty badass, as evidenced by 50 million YouTube views, a book, a commercial for nuts and a merchandise line exploding in popularity."
Who will be there: Social media experts, dads, people who are stuck in 2011.
What they'll say: "Did you see that filibuster the other day? Rand Paul don't give a damn!"
7. Frenemies: Fanning the Flames of Fandom
Description: "We'll venture deep into the fan underworld with a panel that breathes the air and serves the Kool-Aid."
Who will be there: Trekkies, fans of alliteration, people who write Hunger Games fan-fic.
What they'll say: "I recognize you — Digimon tournament last year?"
8. Crowdfunding: A Catalyst for Local Economic Growth
Description: "Through harnessing the power of connectivity and cause, we've seen the generous nature of the human spirit meld with technology to create a social and economic marketplace."
Who will be there: Sociology majors with dog-eared copies of Three Cups of Tea in their backpacks and Kickstarter campaigns for Nepalese orphanages.
What they'll say: "What's your Kiva.org username?"
9. Social Storytelling Meet Up
Description: "Get together with other social storytelling experts for an hour of brainstorming, idea-buidling, networking, friend-making and career-enhancement."
Who will be there: Social media experts, the unemployed.
What they'll say: "Want to see Vines of my newborn?"