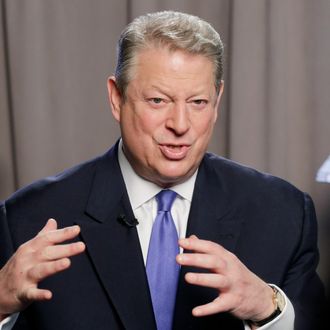 A new lawsuit alleges that Al Gore wasn't so hot on selling Current TV to the Qatar-backed Al Jazeera at first, but a media consultant provided "a step-by-step approach for making the sale … palatable to U.S. lawmakers, pro-Israel factions, cable operators and, most importantly, the American public." Now the middleman, John Terenzio, wants his cut. According to the claim, Terenzio presented Current board member and Senator Dianne Feinstein's husband Richard Blum with the plan, which Gore may have taken a page from.
"Plaintiffs are informed and believe that Gore was adamant in his rejection of the proposal to sell his liberal, environmentally friendly network to the oil-rich Quataris who owned Al Jazeera. Apparently, Gore had a change of heart," reads the suit, available in full here.
Publicly, Gore has said, "I get the criticism. I just disagree with it, because this network has established itself. It's objective, it's won major awards in countries around the world." The deal also made him richer than Mitt Romney. Based on the claims, what we have here is a good old-fashioned flip-flop. Its alleged architect wants $15 million for the trouble.