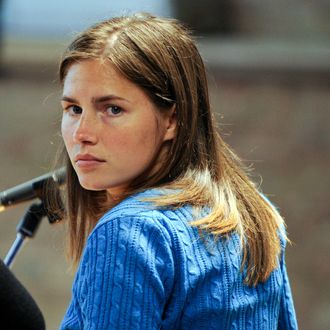 Photo: Daniele La Monaca/Reuters/Corbis
The world's most notorious and/or afflicted study-abroad student still has some fighting to do. Amanda Knox, who was convicted in Italy of killing her 21-year-old British roommate Meredith Kercher and later freed on an appeal, has had her acquittal overturned by the country's top court. Both Knox and her then-boyfriend Raffaele Sollecito will be retried because of "procedural irregularities" in the original appeal — a.k.a. every day in the Italian court system — but it's unlikely Knox will make the trip back. She has a publicity tour to launch, after all.
Fortunately, the ruling does not call for the re-accused to be rearrested. "The psychological stress of the case has been heavy. I don't think that she'll come," explained Knox's lawyer Carlo Dalla Vedova, who told the Times that his client stayed up until 2 a.m. in Seattle, where she's living and studying creative writing, for the decision. "She was sad. She believed the nightmare was over," but she "is ready for a new trial, she's gone through this before. She's ready to fight," he said.
She's also busy: Knox's tell-all Waiting to Be Heard, which she sold for $4 million to HarperCollins, is due out April 30. On the same day, she's scheduled to give ABC's Diane Sawyer the first interview since she was released from Italian prison in October of 2011. The publisher has not responded to a request for comment about the status of the book. It might be too late for a new ending, which is still a ways off.
The case will be heard once again either later this year or next. If the new appeal finds Knox guilty, the top court can hear yet another appeal, at which point Knox would either be freed for real or be forced to serve her sentence, if Italy demands extradition and the U.S. approves it. No matter what, it's going to drag out a while longer.
Update: "As planned, HarperCollins will publish Amanda Knox's book, Waiting to Be Heard, on April 30, 2013, and will move forward with the interviews that we have scheduled," the publisher said in a statement.