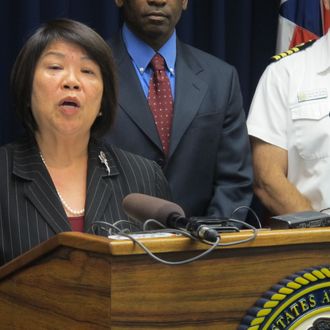 The buzz about Chinese spies these days is that they do it by hacking into computer systems without ever leaving their office in Shanghai. But a couple of cases from Monday and the weekend remind us that the country still has an active in-person espionage game going on, at least according to government allegations. On Monday, a military security contractor made his first court appearance on charges of sharing secrets with his Chinese girlfriend, while on Saturday, a NASA researcher was arrested on a plane bound for China. So retro.
Federal prosecutors allege that Benjamin Bishop, a 59-year-old lieutenant colonel in the Army Reserve and a defense contractor who works in intelligence at the U.S. Pacific Command, shared information with his 27-year-old girlfriend and lied about times he met her by altering her identity in his travel records, according to Huffington Post.
The complaint against him charges that he sent his girlfriend, whose whereabouts are now unknown, an e-mail last May with "information on existing war plans, nuclear weapons and U.S. relations with international partners," according to the Washington Post. In September, he allegedly told her by phone about "the deployment of U.S. strategic nuclear systems and about the ability of the U.S. to detect other nations' low- and medium-range ballistic missiles." A search of Bishop's Honolulu-area home turned up secret documents he was not authorized to have, prosecutors allege.
Meanwhile, a less well-developed investigation into Bo Jiang, a researcher at NASA's Langley Research Center in Hampton, Va., came to a head on Saturday when he was arrested on a China-bound plane pulling away from a gate at Dulles Airport in Washington, D.C. An FBI affidavit said he "was leaving the United States abruptly to return to China on a one-way ticket," and that he had more computer hardware on him than he told investigators, CBS reports. But Jiang's real trouble comes from U.S. Rep. Frank Wolf, who last week publicly accused him of spying in his work for NASA.
In both cases, there's a distinct lack of any hacking allegations, and a return to charges of old-fashioned infiltration and espionage. And both show the obvious danger of that method: If you get caught, you get arrested.