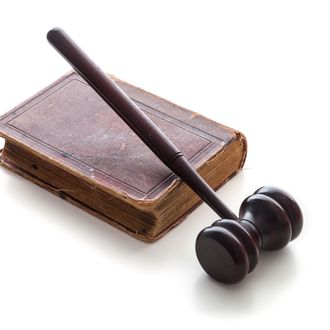 Photo: 2/? Corbis. All Rights Reserved.
The same week that Facebook COO Sheryl Sandberg is launching a nationwide movement to improve the status of women in the workplace, the insular, male-dominated world of Silicon Valley is getting another reminder of how ugly the tech sector's gender relations can be.
Three female executive assistants at San Francisco firm CMEA Capital — Dawn-Shemain Weeks, Margaret Hines, and Shannon Schlagenhauf — have sued the firm and former CMEA partner John Haag, alleging that Haag created a hostile work environment for them by making lewd comments and inappropriate sexual innuendo, including instances in which he asked the employees about their pubic hair and whether the "carpet matched the drapes."
Other alleged creepy behavior from the lawsuit, which was brought to our attention by Fortune and Betabeat:
Defendant Haag referred to Plaintiff Hines as "dirty-bird" and "boom-boom." The reference to a "dirty bird" was clearly sexual in nature. Defendant Haag would tell Plaintiff Hines that he knew she liked to "boom-boom," and in context was a slang term for sexual intercourse.

Defendant Haag informed Plaintiff Hines that he thought Plaintiff Schlagenhauf was "fine" and that he would "suck her daddy's d**k." Thereafter, Defendant Haag would frequently comment on Plaintiff Schlagenhauf's breasts and other body parts within earshot of her.

Defendant Haag would watch pornography on his work computer. On at least one occasion Plaintiff Hines observed him watching a girl-girl movie in his office.

At one point Defendant Haag, with reference to the only female partner at CMEA, asked another partner how he'd like to have that "sweet a** sitting on his face." This comment was reported to Plaintiffs.

In summer 2011, Defendant Haag asked a female investor relations employee, in front of Plaintiff Hines, whether she had a "landing strip" and how she maintained her pubic hair. Defendant Haag asked Plaintiff Hines whether she groomed her pubic hair.

During the drive, Defendant Haag mentioned that he had two female tenants. Defendant Haag then told Plaintiff that the female tenants sometimes leave their underwear in the dryer and that Defendant Haag liked to "sniff it."

On one occasion Plaintiff Hines was answering a question by Defendant Haag stating that she had not eaten and needed some protein and commenced to eat a piece of string-cheese. Defendant Haag commented, "You don't get enough protein at home?" and then used his tongue and hand to simulate oral sex.

On April 19, 2012, CMEA again held a retreat at Cavallo Point. Plaintiff Schlagenhauf was in the hotel store with Plaintiff Hines. Defendant Haag stated that Plaintiff Schlagenhauf's stomach was not the only thing that's getting bigger. He continued by explaining that she had big beautiful eyes and then as he said "eyes" he cupped his chest with his hands in obvious reference to Plaintiff Schlagenhauf's breasts.
There's a lot more in the complaint; it's all basically the same kind of creepy, over-the-top innuendo. The plaintiffs allege that CMEA's top brass knew about Haag's tendencies, even going so far as to warn that he was a "predator," but did nothing to alleviate the situation.
Silicon Valley has dealt with gender-related legal troubles many times in the recent past — Ellen Pao's accusations of gender discrimination at Kleiner Perkins and the scandal that cost former Square COO Keith Rabois his job being the most prominent examples. And while there's no use speculating about how the CMEA case will end, it's hard to deny that the suit's timing plays to the plaintiffs' advantage. With many members of the elite professional world reading Sheryl Sandberg's book in the next few weeks, the thorny issues involving women's roles in the workplace will be on everyone's minds. That's a good thing for women in Silicon Valley, but likely a bad thing for Haag.
This post has been pdated to reflect the fact that former Kleiner Perkins employee Ellen Pao's lawsuit against the firm alleged gender discrimination, not sexual harrassment.