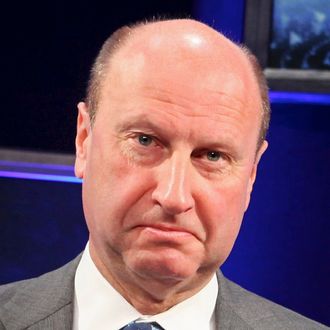 Rich Ricci has a horse named "Fat Cat"; the rest of you aren't so lucky.
Photo: Adeel Halim/Bloomberg via Getty Images
The same day that John Paulson is considering fleeing taxes on his billions by moving to Puerto Rico, the U.K.'s Telegraph reports that Wall Street bankers are complaining that they're not paid enough. 67.2 percent of bankers complained in a recent survey by recruiting firm Selby Jennings that they were "unhappy with their overall remuneration package" in 2012. (Here is the rest of the survey, if you're curious. Some of the numbers — such as the nearly one quarter of all bankers surveyed who didn't get a bonus at all last year — are genuinely surprising, given how central bonuses are to Wall Street's compensation culture.)
I've defended the Wall Street bonus as a pay mechanism, though not the amounts involved. (See Minute MBA's excellent video adaptation of my post, which went up this weekend, for the full explanation of why.) And I'm sure that, after years of boom-time pay, the lower levels of recent years have been a disappointment to many in the sector — especially junior bankers, for whom the missing thousands of bonus dollars will make a real lifestyle difference.
Still, it's hard to have much sympathy for the plight of underpaid bankers, especially when, as another U.K.-based publication revealed today, there is a Barclays banker named Rich Ricci (yes, that is his actual name) who has a racehorse named "Fatcatinthehat."