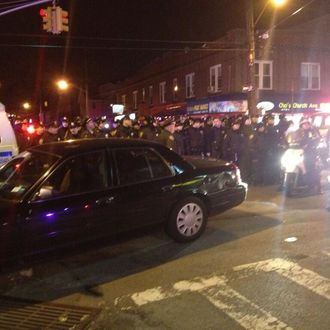 Via Ryan Devereaux / Twitter
Demonstrators swarmed the streets in East Flatbush for the third night in a row on Wednesday, following a vigil for 16-year-old Kimani Gray, who was shot to death by police over the weekend. Unlike Tuesday's relatively peaceful protest and Monday's chaotic one, Wednesday's demonstration led to a number of arrests as cops beefed up their presence in the neighborhood. Adding to the conflicting reports over Gray's shooting — police say he pointed a gun at them but some witnesses have said cops failed to issue a warning before opening fire — comes the autopsy that showed Gray was hit by seven bullets, "including three that entered his body from the rear."
The Post reports police arrested 50 people last night and one officer was injured when a brick hit him in the face.
Ryan Devereaux, a journalist who's been covering the unrest, tweeted from the scene: "At least five arrests now on 48 and Church. People screaming. Girls pepper sprayed and crying." Danny Gold, another journalist tweeting from what he described as "chaos" at Church Avenue and 48th Street, reported six arrests. A U-Stream from the area showed people standing behind metal barricades, yelling at police. Gold reported earlier that bricks had been thrown and a "cop car smashed," but later clarified that "less than a handful" had been thrown.
Meanwhile, in reporting on the Medical Examiner's report on Gray's injuries, the New York Times pointed out that "the autopsy did not establish the order in which the bullets struck Mr. Gray, or determine the path of the bullets, which might make clearer if Mr. Gray had his back to the officers when he was shot, or if he had twisted away after being struck from the front." But regardless of that detail, the shooting has clearly set off a conflict in the neighborhood between police and residents, "many of whom voiced skepticism about the official account."
Update, 12:41 a.m.: The crowd has pretty much dispersed, but Daily News reporter Erik Badia reports the police have stayed thick on Church Avenue through the neighborhood.
Update, 11:15 p.m.: At least one of the arrested was a relative of Gray, CBS reports. Gold tweets it was his sister. A live stream of the protest showed police using the orange plastic "kettle" netting we saw during Occupy Wall Street, and more arrests apparently underway. Councilman Jumaane Williams, meanwhile, has sent some furious tweets directed at activists from outside the community, who he says are inciting chaos:
This post has been updated throughout.