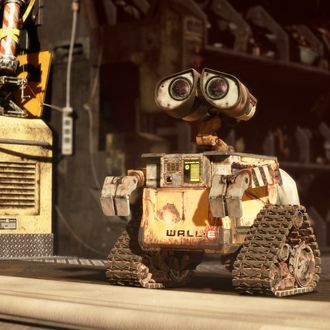 Wallace E. Automaton IV, Wharton freshman.
Photo: Disney/Pixar
A top-tier business school is, by and large, not a place for individuality to shine. By the time eager-beaver applicants — many of whom have paid thousands of dollars for GMAT tutors, personal statement editors, and one-on-one interview coaches — arrive at the doors of their chosen institution, their once-impressive brains have been systematically removed from their skulls and replaced with hard drives containing banal platitudes about "leveraging my skill set" and "monetizing my core competencies."
Two of America's top business schools — UPenn's Wharton School and Harvard Business School — attempted to reverse this trend in recent years by asking applicants to write post-interview reflections and participate in group discussions, encouraging them to reveal a little of their human sides during the otherwise soulless application process. How did that go?
Today's Wall Street Journal has the depressing, inevitable answer:
Days after interview invitations were released, scores of applicants turned to online message boards seeking fellow M.B.A. hopefuls with whom they could practice group-discussion tactics.

And it wasn't long before consultants moved in, too. Last month Accepted.com, a Los Angeles-based firm, began offering a $500 online mock interview for Wharton applicants modeled on the group sessions. Another admission consulting firm, mbaMission, is charging $400 for a practice group discussion. About 100 applicants have run through that firm's trials so far.

"Making these changes to strip away the veneer only encourages applicants to prepare more," says Scott Shrum, director of M.B.A. admissions research at Veritas Prep, an admission consulting firm.
Sigh. Maybe B-schools should just embrace their applicants' sterility and try a different approach. Hunger Games–style death matches? That could be revealing. Last person standing gets a leather padfolio, the collected works of Milton Friedman, and an invitation to join the class of 2016.