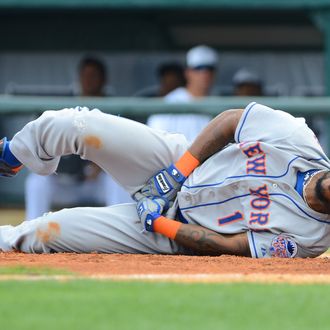 And that's why you wear a cup, kids.
Photo: Mark Cunningham/Getty
Earlier this week, after the Mets' Jordany Valdespin got hit in a very sensitive place by a 94-mile-an-hour Justin Verlander fastball, manager Terry Collins ripped his player for going to bat without a protective cup. "You would think if you are starting at second base, you would be smart enough to wear a cup," said Collins. But Valdespin is hardly the first ballplayer to take the field without anything protecting his family jewels. This 2009 article found that the consensus was that catchers wear cups, most outfielders don't, and it quotes one trainer who estimated that about 25 percent of infielders don't wear them, either. Here, now, a look back at some documented cases of ballplayers who, insanely, have willingly chosen to play the game sans cup.
2013
Valdespin was attempting a fifth inning bunt when the Verlander pitch hit him — New York Post back-page headline: "Numbnuts" — and after the game, Valdespin had no use for euphemisms. When asked where the pitch hit him, he responded, "My dick." Valdespin, wisely, will wear a cup going forward.
2013
When the Blue Jays acquired R.A. Dickey, Toronto catcher J.P. Arencibia didn't want to have to sit every fifth day while someone else more comfortable receiving the knuckleball got the start. So while working out with Dickey over the off-season, Arencibia caught Dickey but wore only a glove and a mask — no chest protector, no shin pads, and no cup. Said Arencibia to ESPN the Magazine's Chris Jones, about going unprotected: "It … makes you really, really concentrate." As of that article's publication, Arencibia hadn't yet come to regret that choice. Wrote Jones, about how the two continued to play catch during the off-season: "Arencibia never did wear his cup; fortunately, he never needed it."
2010
Carl Crawford was on the basepaths at Oriole Park when he was hit by a pickoff throw from Baltimore's starter Jake Arrieta. He was taken to a nearby hospital and diagnosed with a testicular contusion — but later said he still wouldn't begin wearing a cup. "I don't wear a cup," said Crawford, via MLB.com. "Never wore a cup. I do too many moves to wear a cup. … I'm still not going to wear a cup."
2009
Skip this one if you're squeamish: In the ninth inning of a 2009 game against the White Sox, Seattle's Adrian Beltre was nailed by a hard-hit Alexei Ramirez grounder. Beltre finished the game — which to further torture the infielder lasted fourteen innings — but was later placed on the disabled list with a severely contused testicle. Beltre would later say that it had swelled to the size of a grapefruit after the game, and it was initially feared that Beltre would need season-ending surgery because of bleeding  in the testicle. (At the time of the mid-August game, the Mariners still had hopes of claiming the A.L. Wild Card.) He'd return for the final month of the season, though, and when he stepped to the plate for his first at-bat after coming off the DL, Tchaikovsky's "The Nutcracker" was played over the stadium P.A. system, "a gesture from Ken Griffey Jr.," according to the Seattle Post-Intelligencer. Beltre said at the time that he'd wear a cup only while he healed, and indeed, when asked in 2011, he said he wasn't currently wearing one. "I don't like it," he told ESPN Dallas/Fort Worth then. "I just don't feel comfortable. That's it." Say this about Beltre: He really isn't worried about getting hit. Last August, former Mariners manager John McLaren shared the following anecdote with the Times:
"In spring training, he wanted me to hit the ball as hard as I could to him, rapid-fire," McLaren said. "He didn't even have a cup on — that's been an issue with him because he's been hit — but he was just tireless. I'd be exhausted, and he's down there smiling away, waving his glove: 'Is that all you got?'"
1997
The squeamish might want to skip this one, too. In 1997, Seattle pitcher Josias Manzanillo wasn't wearing a cup when he was hit with a Manny Ramirez line drive. Incredibly, Manzanillo picked up the baseball and threw out a runner at the plate, then ran off the field under his own power. But Manzanillo would require surgery as a result of the incident; he'd suffered tears in both testicles, and one of them would have to be removed.

So yeah, the lesson here for any ballplayers reading this: Wear a cup. We'll leave you with the words of our own Will Leitch, who as an 18-year-old catcher in Mattoon, Illinois, used a line of thinking similar to Arencibia's. He didn't wear a cup to force himself to instinctively get his glove in front of the ball, and never once had an issue behind the plate. But in his last-ever baseball game — the back-end of a double-header — his coach inserted him at third, and a hard-hit one-hopper struck him before he could get his glove on it. From a 2000 Black Table essay, this is what it feels like to get hit in the crotch with a baseball if you're not wearing a cup:
As you know, there is a brief second, before the gnashing and screaming and fuck fuck fuck happens, where you are able to rationally and disinterestedly understand that you have just been hit in the genitals, and it's about to genuinely, all-encompassingly, awesomely, hurt like a bloody bitch-and-a-half.

I had that second, then collapsed. The spectators gasped, followed by those involuntary giggles that we cruelly catch every time we see someone hit in the groin. The coach came out with an assistant and carried me off the field.
Seriously, fellas: Wear a cup. It's for your own good.