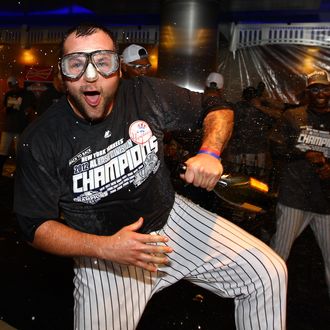 Joba Chamberlain is ready for some baseball.
Photo: Al Bello/Getty Images
We spent most of last week attempting to preview the 2013 baseball season, from the Mets to the Yankees to the whole damned league, and now, today, it's finally here. Actually, the 2013 MLB season began last night with the Rangers and the Astros, but we've never been in the habit of acknowledging Texas and feel little need to begin now.
In a rare occurrence, both New York City teams are opening at home, on the same day. Up at Yankee Stadium, the Yankees are hosting the Red Sox, and no matter what your thoughts on the current state of both historic rivals, we can probably all agree that April 1 is way too early for the intensity of a Yankees–Red Sox game. (The other two Sox-in-the-Bronx series are June 1–3 and September 6–8.) Both teams are expected to struggle far more than usual this season, but the pitching matchup will look familiar to even casual fans of both teams: CC Sabathia vs. Jon Lester. Just try not to gag when you look at the Yanks' opening-day lineup.
Over in Flushing, the Mets start off, too, facing the San Diego Padres. That is not exactly the most scintillating matchup in baseball history, but it feels right for this Mets season, one that many Mets fans are eager to have over before it even begins. Jon Niese, who many expect to have a breakout season, pitches for the Mets, and Edinson Volquez takes the mound for Padres.
First pitch for both is at 1:05, which means you totally have time to leave work right now and get over to either park. The Yankees are considerably more expensive than the Mets. Nothing new about that. Baseball is here, finally. That took forever.