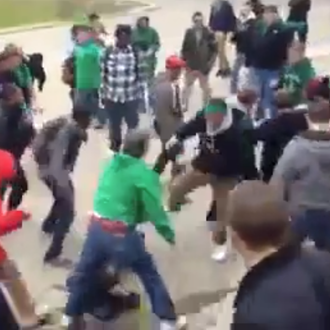 It's the end of a St. Patrick's Day weekend, which means if you're not currently drunk or recovering from yesterday's bender, you're probably pretty tired of intoxicated shenanigans clogging the streets. From the goofballs surging through Midtown on Saturday to the drunks gathered outside McSorley's at 9:12 Sunday morning, New York went big this St. Patrick's Day. So now as a humble tribute to your exasperation and/or hangover, it's time to binge not on beer but on schadenfreude. Enjoy our favorite stories and videos of drunken St. Patrick's Day mayhem here and around the country.
Starting with New York City, which saw more than its share of brawls, barfing, and bros. Gothamist brings this video of the following major brawl in the Times Square McDonald's. Hold onto your McNuggets, this one's intense:
The drunken mayhem wasn't confined only to civilian yahoos. At least two cops bumped up against the law thanks to their own off-duty boozing, the New York Daily News reports. One got busted for drunk driving early Sunday morning, and another got arrested for not just drunk driving but "leaving the scene of an accident and refusing to take a breath test."
Naturally the commuter trains, where drunks had no room to roam, saw a good deal of fighting and general douchebaggery. Alas, no video appears to be available of the fight that saw sixteen people kicked off a New Jersey Transit train on Saturday.
Up in Albany, things got even more bonkers with this major brawl at the city's St. Patrick's Day parade. The cameraman appears to be yelling "turn up," which according to Urban Dictionary means "getting wild or excessively crazy":
In Pittsburgh, an obviously frustrated police officer appeared to tase a drunk guy for no apparent reason. But the officer says he merely pushed the guy down and didn't engage his Taser. Either way, this video gets interesting at about 1:03:
Detroit got an early start on the mayhem, when local Fox reporter Charlie LeDuff, a New York Times veteran and Pulitzer Prize winner, found himself accused of public urination and biting a security guard last week.
And finally, Dayton, Ohio takes the cake for largest-scale melee when the police had to bring in honest-to-goodness riot control cops to quell drunken University of Dayton students:
Happy St. Patrick's Day, America. Let's not do it again for at least a year.