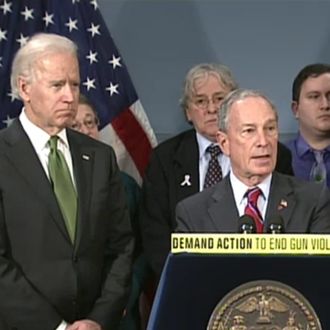 A choked-up Joe Biden again stressed the need for tighter gun-control regulations in a speech today at City Hall in New York City, where he traded compliments with Michael Bloomberg on the steps they've taken so far. "State action is not enough," said Bloomberg, outlining the proposals presented by the vice-president, which have already been stripped of the assault-weapons provisions by the Senate. "There is a national problem." When Biden took the microphone, he praised Bloomberg's work with Mayors Against Illegal Guns: "It is organized, it is committed, and it is consequential," he said. But then he turned his aim on the opposition.
"There's not one single thing — not one, not one, not one — that infringes on anybody's second amendemtn constitutional right. Not one," said Biden, backed by victims of the Sandy Hook shooting, in a meandering but emotional plea that returned often to that refrain. "This is not a constitutional issu, so let's get this straight. This is not about anybody's constitutional right to own a weapon."
"How can they say that when you look at those twenty beautiful babies?" he asked. "Think about Newtown. Think about Newtown. This is a false choice being presented to the American people."
The New York Times has a look today at the "uphill road" of gun regulation in Congress, where Harry Reid already broke the bad news to Dianne Feinstein about the assault-weapons ban. "Mr. Reid was shocked that Ms. Feinstein was shocked," Jennifer Steinhauer reports. "Despite a high-profile push by President Obama and Vice President Joseph R. Biden Jr., the assault weapons ban never had a chance of passage."
Biden and Bloomberg did not mention the bad news explicitly, but focused on the long-shot chance of the ban surviving as an amendment. "Everyone's going to stand up and say yay or nay," Bloomberg said, and then it will be up to the American people to decide what they think of those choices.