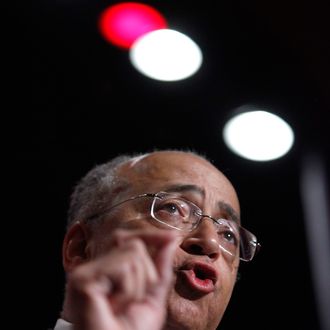 Photo: CARLO ALLEGRI/Reuters/Corbis
Racial politics will play a complicated and subtle strategic role in the larger picture of this year's mayoral campaign. But last night Bill Thompson provided a vivid illustration of how the issue is also deeply personal for him. Responding to some classic John Liu grandstanding about stop-and-frisk — and also, indirectly, to Christine Quinn's highly opportunistic support for creating an inspector general for the NYPD — Thompson was unusually heated in describing how real the topic is for his 15-year-old stepson.
The crowd-pleasing move would have been for Thompson to join Liu's proposal to ban stop-and-frisk. Thompson deserves credit for trying to do something more difficult: Calling for the protection of his son's civil rights and his physical safety from gangs. That path is more nuanced and clearly more heartfelt for Thompson, even if it's a tougher sell to voters.