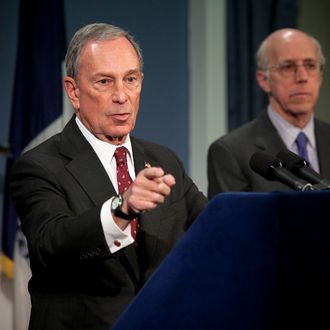 Photo: Allison Joyce/2013 Getty Images
With the assault-weapons ban basically off the table, the Senate's Democratic gun control advocates are making universal background checks the centerpiece of the legislation they plan to bring to the floor in April. Even though over 90 percent of Americans support background checks for all gun buyers, the measure is not expected to breeze through Congress. To pass, the bill will need votes from Southern Democrats who are worried that endorsing gun control will cost them reelection, as well as Republicans from states whose populations are divided on gun issues. On Saturday evening, Mayor Bloomberg announced that he and his Mayors Against Illegal Guns group will be going after those people where they (sometimes) live with a $12 million, 13-state TV ad campaign that "focuses on senators who he believes might be persuaded to support" background checks.
In an interview with the New York Times, Bloomberg presented himself as "a one-man counterweight" to the NRA. And, while he disagrees with that group on pretty much everything, he does seem to appreciate their lawmaker rating system, which, he said, is a useful tool for picking Congressional candidates to receive his super-PAC cash. As the Brookings Institution's Thomas E. Mann pointed out to the Times, the expensive ad campaign is "unlikely to influence the outcome of the legislation unless lawmakers were convinced that Mr. Bloomberg would open his wallet again after the vote — both to reward those who supported the bill and to punish those who did not." Anyone looking for assurance on that should review the outcome of last month's Chicago congressional race.
Update: Bloomberg and NRA head Wayne LaPierre both appeared on Meet the Press to discuss their mutual favorite topic (though not at the same time, unfortunately.) The mayor said that he was "cautiously optimistic" about the passage of significant gun control legislation. "While I think we are going to win this, celebrating in advance isn't the right thing to do," he said. "We've got to go out, we've got a lot of work ahead of us. But I don't think we should give up on the assault weapons ban." As for his background check–focused ad campaign, he said, "I think I have a responsibility, and I think you and all of your viewers have responsibilities, to try to make this country safer for our families and for each other. And if I can do that by spending some money and taking the NRA from being the only voice to being one of the voices, so the public can really understand the issues, then I think my money would be well spent, and I think I have an obligation to do that."
Unsurprisingly, LaPierre spent most of his segment attacking Bloomberg's effort to "buy America," as well as "reckless comments on this whole gun issue." He also promised that the NRA's supporters were doing what they could to counter the mayor's spending power: "We have people all over, millions of people, sending us 5, 10, 15, 20 dollar checks telling us to stand up to this guy that says that we can only have three bullets, which is what he said. Stand up to this guy that says ridiculous things like, 'The NRA wants firearms with nukes on them.' I mean it's insane the stuff he says." LaPierre briefly dipped back into reality to call for better enforcement of federal laws intended to prevent felons from owning guns, as well as the inclusion of people with a history of violent mental illness in the existing background check system, though he went on to insist that universal background checks would do nothing to cut down on violence. And, just for good measure, he also trotted out his classic "guns in every school" idea.