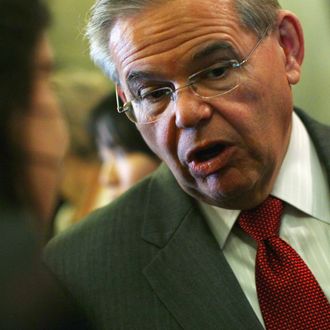 Photo: Win McNamee/Getty Images
Like nearly every story on Tucker Carlson's the Daily Caller that escapes the conservative echo chamber, allegations that New Jersey senator Bob Menendez paid for sex in the Dominican Republic appear to be false. The attempted November surprise, which mostly flopped even at the time, hinged on two women in a video interview claiming Menendez (a "Latin Lover," in Caller-speak) offered them $500 for sex and only ended up paying $100. Now one of the women says — in an affidavit — that she was paid to make the false charges.
The woman identified a lawyer who approached her and a friend to make the videotape, according to affidavits obtained by the Post. That man has in turn identified another lawyer who gave him a script for the tape and paid him to find women to fabricate the claims, the affidavits say. […]

FBI agents conducting interviews in the Dominican Republic have found no evidence to back up the tipster's allegations, according to two people briefed on their work.
While Menendez has come under fire for his relationship with a Dominican doctor living in Florida — the AP reported today that he "sponsored legislation with incentives for natural gas vehicle conversions that would benefit the biggest political donor to his re-election" — the most salacious claims against him, peddled repeatedly by Carlson & Co., have never been verified.
"It's amazing to me that anonymous, nameless, faceless individuals on a website can drive that type of story into the mainstream, but that's what they've done successfully," Menendez said last month, calling the charges "smears."
Assuming that Carlson doesn't break character to issue an apology or correction, we're now faced with a he-said, she-said between a Daily Caller report and the sworn testimony of a foreign escort. From where we're sitting, the more reliable source seems obvious.