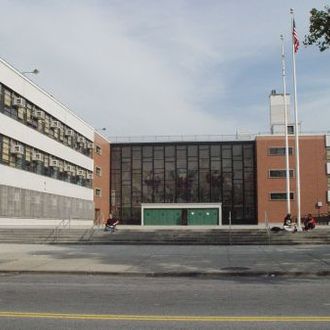 Bronx High School of Science
The Bronx High School of Science is still trying to figure out the extent of a hazing scandal with sexual overtones that saw three members of its track team arrested last Monday, its principal said on Monday. "We understand that not all members of the team were involved in the hazing," principal Valerie J. Reidy wrote in a letter to parents, according to the New York Times. "However, at this time, we do not know the magnitude or severity of the incident(s) and who specifically is involved." The parents of the arrested students told the Times and other news outlets that their kids had done nothing wrong. But other students at the school described the attacks as routine.
Thomas Brady, 16, Boubacar Diallo, 16, and Pier Berkmans, 17, all students at the esteemed public high school, face charges of forcible touching, hazing, harassment, and assault. The complaint against them says they touched a younger student's genitals and anus through his clothes, and threatening to rape him. The attacks allegedly started last December, when one of the accused told the victim, "You need a good fingering, you freshman," according to CBS New York.
One student who talked to CBS said the alleged attack came as no surprise. "Most likely, these three that have been charged had it done to them by other seniors and it just goes on." Another told the channel it was common on the track team: "It's just something that they do, and it's always been like that."
Pier Berkmans's parents said he had done nothing wrong. His father Jan Berkmans, a pastor, told the Times, "We are sure, we are positive he will be found innocent." Pier's mother, Yekaterina Berkmans, told CBS, "It's very shocking and sad to hear the story being presented, almost as the facts are proven, and no proof whatsoever has been there so far." Jan Berkmans added that Pier "cannot understand why this kid would say so, so really, no idea why."