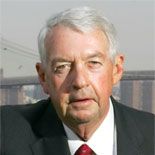 Charles Hynes.
Photo: Courtesy of Brooklyn DA.
In addition to preparing for a difficult Democratic primary, this spring Brooklyn District Attorney Charles Hynes will be filming the reality show Brooklyn D.A.. The six-part series debuts on May 21, and CBS says in a press release obtained by the Daily News that the show, "follows … hard-charging prosecutors (with) larger-than-life personalities both inside the courtroom and out. They're eccentric and living right on the edge." Though that's one way to describe the claims that Hynes mishandled sexual abuse claims in the ultra-Orthodox Jewish community, it seems that recent debacle won't be covered. However, the show has sparked new complaints from his primary opponents, who are incensed about the free air time for Hynes.
Both candidates responded to the news with catty comments. "Charles Hynes doesn't want to be D.A. He just wants to play one on TV," said former Manhattan prosecutor Abe George. Kenneth Thompson, the former federal prosecutor best known as the attorney for Dominique Strauss-Kahn's accuser, said if Hynes "spent less time worrying about getting on TV and more about his job, Brooklyn wouldn't have the lowest felony conviction rate in the city." George Arzt, Hynes's campaign spokesman, replied, "Jealousy is not a positive for political figures." Someone's been brushing up on his Real Housewives.