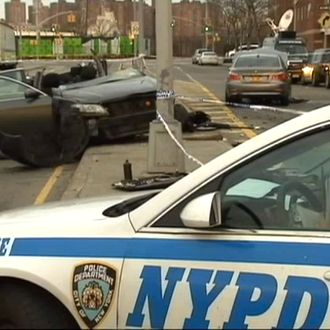 The baby boy delivered through an emergency C-section after a brutal hit-and-run killed both of his parents this weekend died overnight, Hasidic community leader Isaac Abramahm told CBS New York. Nachman and Raizy Glauber, both just 21 years old, were on their way to the hospital Saturday, when a BMW slammed into their black cab in Williamsburg, killing the husband immediately and ejecting the expectant mother. Both the driver and passenger of the BMW fled on foot and neither have been found. First responders managed to save the child, who spent the weekend at the hospital in critical condition.
"If he would have stayed alive, he would have been in memory and a little reminder to the grandparents of his parents," said Abraham. "And now that little boy has been torn away as well."
The owner of the BMW was not driving at the time, but has been arrested and charged with insurance fraud for letting a third party behind the wheel, NBC New York reports. The livery cab driver, Pedro Nunez, survived and is in stable condition.
The Orthodox Jewish community in Williamsburg spent Sunday in mass mourning as the Glaubers were laid to rest. "Give yourself up, make the pain a little easier so that at least we'll know that you're not a coward facing charges," said Abraham. "You're already a coward for running."
Update: Police have named 44-year-old Julio Acevedo as the suspected driver of the BMW. Acevedo was charged with drunk driving in February and has been arrested for manslaughter previously, the Daily News reports. NYPD spokesman Paul Browne said, "We have identified him and are looking to talk to him in connection with these deaths. We believe he was the driver of the BMW and fled the scene."