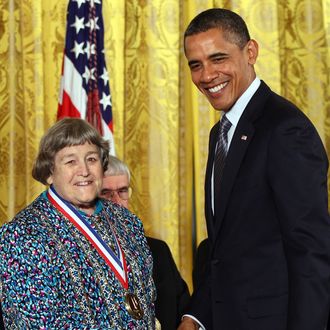 Brill and President Obama.
Photo: Win McNamee/2011 Getty Images
The New York Times made some changes to the obituary of Yvonne Brill, an 88-year-old rocket scientist who died last week, after readers pointed out that the piece's lede praised her homemaking skills before the job that earned her a write-up in the first place. Brill's career highlights include the invention of a propulsion system that prevented communications satellites from falling out of orbit (for which she received a National Medal of Technology and Innovation from President Obama in 2011), as well as work on the first weather satellite, designs that were used in American moon missions, and the Mars Observer. And yet the original version of her Times obituary opened with, "She made a mean beef stroganoff, followed her husband from job to job and took eight years off from work to raise three children. 'The world's best mom,' her son Matthew said."
After receiving a number of complaints on Twitter — with a particular focus on the beef stroganoff bit, which does appear to have been a case of poorly executed irony — Times public editor Margaret Sullivan responded, "To the many who've tweeted at me about the Yvonne Brill obituary, I sure agree." Sullivan's tweet also directed those interested in "more perspective" to a Columbia Journalism Review article about a female science writer, Ann Finkbeiner, who has pledged to stop including personal details about child-rearing and spouses, the "nurturing of underlings," workplace discrimination, and being "a role model for other women" in general-interest profiles of woman scientists, since such information is rarely included in similar coverage of their male counterparts.
Meanwhile, the Times altered Brill's obituary, though not according to Finkbeiner's rules. The lede now reads, "She was a brilliant rocket scientist who followed her husband from job to job and took eight years off from work to raise three children. 'The world's best mom,' her son Matthew said." (A later line that originally noted Brill's "devotion to family" was also changed to reflect her "personal and professional balancing act" instead.) In addition to the husband-and-kids references in the new opener, the obituary refers to its subject as "Mrs. Brill" throughout — because her son said she preferred the title to "Ms." — and notes that she did not mind relocating for Mr. Brill's work because, as she put it, "Good husbands are harder to find than good jobs." And then there's this:
Part of Mrs. Brill's rationale for going into rocket engineering was that virtually no other women were doing so. "I reckoned they would not invent rules to discriminate against one person," she said in a 1990 interview. Throughout her career Mrs. Brill encouraged women to become engineers and scientists, starting by telling high school girls to stick with math. In her last week of life, she was still writing letters recommending eminent women in engineering for professional awards.
It's clear beef stroganoff did not belong in the first line of the obituary, but the story of Brill's experience as a woman in her particular workplace does. After all, the Times also pointed out that she "is believed to have been the only woman in the United States who was actually doing rocket science in the mid-1940s," despite never having received a formal engineering degree because the program she wanted to attend only admitted men. While one Twitter user said that Brill's contributions to her industry were made "somehow invisible" by the passages that mentioned other things, it seems that it would be impossible to fully acknowledge the scope of her accomplishments — or provide an accurate portrait of her life and interests — without talking about what went on when she was away from her desk.