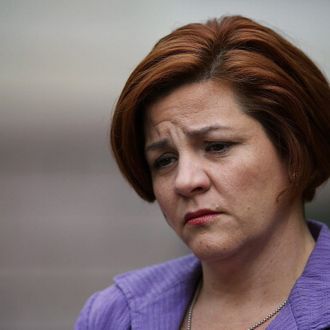 This morning, Christine Quinn made official what's been clear for at least the past three years: She's running for mayor. The announcement came in a video posted to Quinn's campaign website, QuinnforNewYork.com, at 8 a.m.; she's following it up with a day of old-school retail campaigning, a "walking and talking" tour with stops in all five boroughs.
The five-minute video, with Quinn sitting at the counter of the Moonstruck Diner on West 23rd Street, mixes the heart-tuggingly biographical with the overtly political: Quinn mentions that she grew up in a working-class household with a union-member dad (She manages to say "union" four times in about 30 seconds) and lost her mother to cancer as a teenager. The video does not, however, speak the name of Mike Bloomberg, the man Quinn wants to succeed and her greatest political asset and liability. Nor does it mention Quinn's sexuality or her wife.
Today's chatting and handshaking — starting in Inwood, with stops in the South Bronx, Forest Hills, Bedford-Stuyvesant, and Staten Island — will showcase one of Quinn's talents, her one-on-one warmth, and during the next six months, she promises to walk in "every community in this city." That broad range is plenty strategic, too: Quinn's base is Manhattan, and her opponents will be trying to attack her as a cultural and geographic elitist who has only ever represented her Chelsea council district. If Quinn, ahead in the polls, is going to lead wire-to-wire, she'll need to piece together votes from all over town. Today isn't really the start of that effort, but she's picked a nice, sunny Sunday to launch the symbolism.