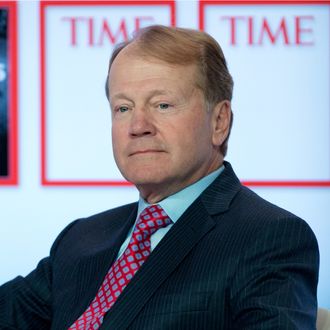 Sheryl Sandberg's feminist-in-the-workplace manifesto, Lean In (maybe you've heard of it?), is making waves in the business community, even though it's only been out for two days.
In what is no doubt the first of many Sandberg-inspired conversions, Cisco CEO John Chambers has just ordered his managers not only to read Lean In, but to come up with "3-4 specific things you will do differently" to improve the culture of gender relations inside the company.
AllThingsD has Chambers's memo to his senior staff, which reads in part:
Today is International Working Women's Day, and I want us, the leaders of Cisco, to see this as a leadership moment. Without realizing it, we operate every day with gender stereotypes and biases, many of which we do not realize. After reading Lean In and listening to Sheryl, I realize that, while I believe I am relatively enlightened, I have not consistently walked the talk. I think each of you, on reflection, will identify opportunities to operate at a new level with your women employees, leaders, customers, partners, and peers. I believe we — together — need to drive a fundamental culture change and it is up to us as leaders to make this change happen. What we have been doing hasn't worked, and it is time to adjust.

I have two specific asks for each of you: 1) please read the copy of Lean In you will be receiving shortly, before we get to the SVP/VP off-site and 2) determine 3-4 specific things you will do differently and detail those commitments in your development plan and if you need help, please contact Sandy Hoffman, Chief Diversity Officer.
It's too bad it took a best-selling book to make Chambers realize that his company's gender culture needed some touch-ups. But hey, Sandberg gets results, and late is better than never.