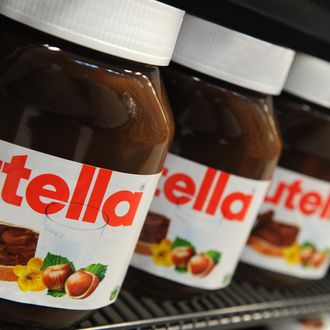 Last month, a Columbia undergraduate dining hall tried to give students a treat by serving Nutella every day, but some students are abusing the privilege. The Columbia Daily Spectator reported this week that the demand is up to 100 pounds a day and costs the school $5,000 per week, thanks in part to some students smuggling extra chocolate hazelnut spread out of the dining hall. A spokeswoman tells the New York Times that those figures are "speculative and inaccurate," but the paper has uncovered more shocking information on the rampant thievery that exists in college dining halls.
The Times reports, "Of 11 students questioned on the campus on Wednesday, all confessed to having spirited away loaves of bread and bottles of ketchup, not to mention containers of milk and pieces of fruit." The introduction of the spread appears to have exacerbated the problem at Columbia, but the paper has yet to find evidence of a more widespread rash of Nutella-related crimes. "Nutella is widely available on school campuses, though precise figures could not be obtained," says the paper. "It was also unclear whether Nutella hoarding had become a financial concern on other campuses."
Peter Bailinson, a freshman member of the Columbia College Student Council, was the first to highlight the issue in a Facebook post last month. "I posted it trying to get people to be aware of why Dining charges as much as it charges for things," he tells the Times, adding, "My original post said please don't take more than you need at one meal or we're not going to get more of these cool products. That got interpreted as Dining is going to take away Nutella because we're using it so much." Indeed, the Daily Spectator reports, "While Dining is not considering getting rid of Nutella, it has noted that it is hesitant to offer other 'luxury' items, like lobster tails, due to similarly high anticipated demand." Filling your backpack with lobster tails doesn't sound all that feasible, but those felonious undergrads would probably find a way.