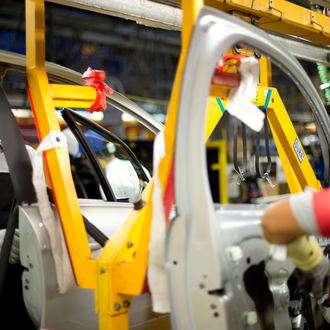 Factory workers, also happy they have jobs.
Photo: CHRISTOPHE SIMON/AFP/Getty Images
Today's jobs report in a nutshell: 236,000 new jobs, an unemployment rate that ticked down from 7.9 percent to 7.7 percent, and a bunch of data to get excited over. The figures I care most about — long-term unemployment and the number of so-called "discouraged workers," which is the name the BLS gives to people who have stopped looking for jobs because they believe none are available — remained essentially unchanged. But most other metrics came in better than expected, and revisions to previous months' numbers generally smoothed them out in the long-term, producing a month-over-month upward jobs trend that looks remarkably steady and consistent.
The biggest lesson in the jobs report is that the recovery is still being driven by two industries: health care and construction.
Of the two, I put the most stock in construction. After all, the gains in the health-care sector are primarily a product of policy and demographics: the implementation of the Affordable Care Act, combined with an aging Boomer population, has driven demand for health services way up. But that doesn't necessarily mean that the economy as a whole is recovering.
Construction, on the other hand, is a reliable indicator that good things are happening. The sector created 48,000 new jobs in the last month, which made it second only to professional and business services on the list of recovery drivers.
Some doubters have called the housing recovery into question, attributing the rise in home prices all over the country not to a stronger, more prosperous economy and rising consumer confidence, but to a shortage of available houses that has led to a price spike. But the months-long boom in construction should put that concern to rest. People are building houses, apartment buildings, and condos again, at rates that they haven't since the crash. And while none of us should be satisfied with a 7.7 percent headline unemployment rate, we can at least rest sure in the knowledge that people are feeling confident enough to put better roofs over their heads.