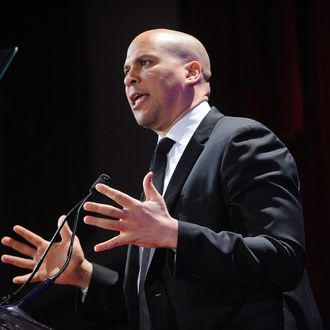 Can you all relax for a minute?
Photo: Brad Barket/Getty Images
Cory Booker tweets a lot. Cory Booker rescues people and animals on a regular basis. Cory Booker is very media savvy. All of these things have contributed to the outsize hype and attention that Booker enjoys. But by the time the presidential campaign beings in early 2015, Cory Booker will have been a U.S. senator for all of a few minutes (assuming he wins his race in 2014). Cory Booker is not going to run for president in 2016.
The Washington Post doesn't totally agree. Today, it placed Booker in its March Madness–style bracket of 2016 contenders — people who, the Post says, "may run for president in 2016." But the Post is hardly alone.
Last week, a Reuters/Ipsos poll of 2016 presidential primary preferences included Booker as an option. (He got 4 percent.)
In late January, a BuzzFeed story speculated, "Although Booker could be a possible contender for the presidency in 2016, it would very likely depend on whether or not Secretary of State Hillary Clinton decides to get in the race." In another January story, BuzzFeed's Ben Smith even referred to Booker as one of the "very strongest candidates" for the Democratic nomination in 2016.
Booker may very well run for president someday, but he's smart enough to wait until he's accrued some more experience beyond a mixed record as mayor of the 68th most populous city in the country. Asked on Reddit earlier this week whether he would consider a run for president in 2016, Booker joked about running for "President of the New Jersey Star Trek Club in 2016" instead, and, on a more serious note, suggested that Congress is much more in need of leadership. "We need to stop looking at [the presidency] as the be all and end all of elected service," he said.