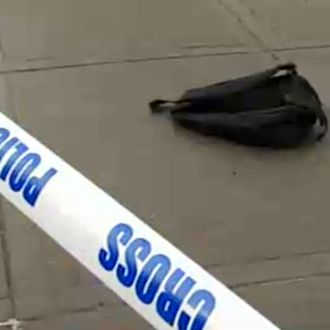 The boy's backpack.
Photo: NY1
The unimaginable tragedy of a 6-year-old boy killed yesterday by a tractor trailer on his way to school is tabloid fodder this morning, with the New York Post quick to point fingers. Not at the driver, who hit the child on the crosswalk while he had the right of way, but at the crossing guard, who wasn't at her corner. "Double Cross," reads the front page today. "Traffic guard goes AWOL — then lies as truck kills little boy." The kid's parents are much more forgiving.
According to the Post's account, the guard Flavia Roman, who has worked at the intersection since 2003 and lives a half-block away, "never showed up for work" until after the boy was hit, "then showed up at the scene claiming she had run home for a bathroom break."
The Daily News, on the other hand, reports that Roman was on a bathroom break. "She said she had an emergency, but she did not notify her supervisor," a NYPD spokesperson said. Roman has been suspended.
"She loved that boy," said the child's father Sidiki Diarrassouba. "Something happened, I don't want to blame her. … I believe in God. I'm a Muslim, so whatever Allah decides is [right]. He's the one who gave him to me, and then he took him back. He's the one who decided today was his last."
The truck driver was given a summons for failing to yield to a pedestrian and not exercising due care. It is notoriously rare for drivers in New York City to be charged with a crime in pedestrian deaths. "How do you get a ticket for hitting a child and my grandmother's still being questioned by the police?" asked the crossing guard's granddaughter in the Post. "It's the driver's fault; you have to look both ways. How do you miss a child?"